Gigabyte GSmart Sierra S1 Review
2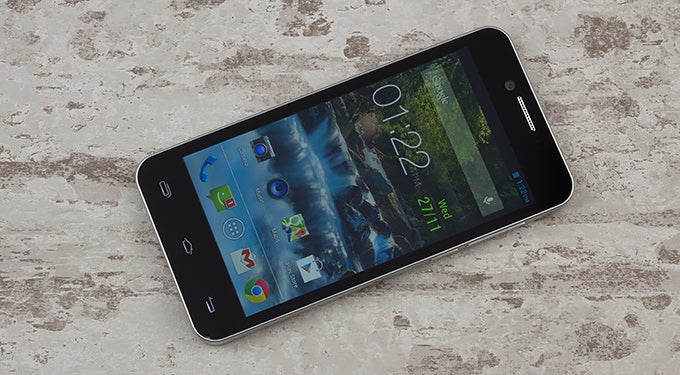 Introduction
Gigabyte outed a suite of Android phones nearing the holiday shopping season, with a lot of screen sizes in the mix for various tastes.
Gigabyte GSmart Sierra S1
is a dual SIM 5" HD handset with decent design and specs, arriving at a price to match. Will it be enough to be noticed amongst the ever-increasing value-for-money Android crowd? Read on to find out...
In the box
In-ear stereo headphones
Wall charger
MicroUSB cable
Warranty and information leaflets
Design
The GSmart Sierra S1 has a pretty ergonomic and pleasant to hold chassis, with soft-touch back that imitates brushed metal, and faux chrome rim surrounding the sides. Its rounded corners and tapered back make it lie firm in the hand, and the build quality is consistent, leaving the impression for quite a durable handset. At 5.73 x 2.85 x 0.35 inches (145.5 x 72.5 x 8.9 mm) and 5.93 oz (168 g) it is not the thinnest and especially the lightest 5-incher out there, but it's precisely those numbers that give it the solid feel.
The power/lock key plus volume rocker on the right are very conveniently located, with good tactile feedback, easy to feel and press without looking. The Sierra S1 has a removable back cover that fits tight yet is not hard to pry open, revealing the swappable battery, microSD card slot and two regular SIM card slots.
Display
A 5" 720x1280 pixels IPS-LCD display is gracing the Sierra S1, with pretty good 294ppi pixel density, that won't leave you longing for much more. The colors are natural, but the black levels are rather greyish, with the screen backlight visibly seeping through when showing a black background, for instance.
Screen brightness is enough for decent outdoor operation of the phone on a cloudy day, though you'd have trouble telling what's on if it's sunny outside and shining on the display. Viewing angles could be better, and yet, since it's an IPS panel, contrast and brightness do not start shifting until after the 45 degree mark, and deteriorate only at extreme angles.
Display measurements and quality
Recommended Stories