Gigabyte GSmart Guru Review
5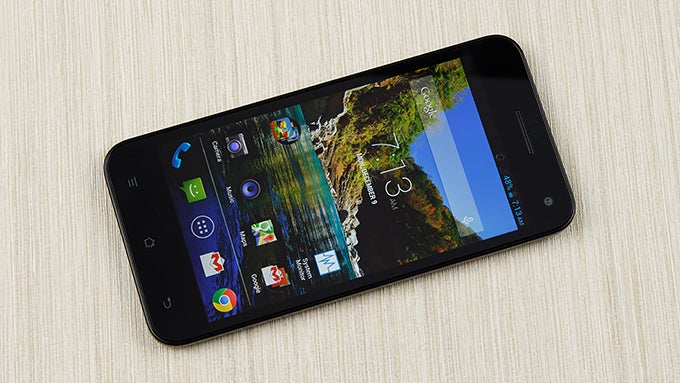 Introduction
The
Gigabyte GSmart Guru
is a phone from a brand you've actually heard of yet coming for a very affordable price, while offering almost top-shelf specs and a very sleek and sturdy design. Not a bad combination, is it?
Unlike most Gigabyte devices we've seen recently, the Guru skips the dual SIM functionality and only supports one SIM card. Dual SIM phones are popular in emerging markets where people switch between cards to save on their monthly bills, and the lack of dual SIM here signals to the fact that this targets a slightly different audience.
With a 5-inch 1080 x 1920-pixel display, a quad-core chip (it's a MediaTek one, but still), and a 13-megapixel rear camera, the GSmart Guru ticks all boxes for premium phone on paper, but does the well-rounded spec sheet translate into an actually good real-world experience? Let's find out.
In the box:
Wall charger
USB cable
In-ear headphones
User manual
Design
The GSmart Guru is a surprisingly sleek and svelte device for its price. It impresses with its just 7.2mm thin body that despite its slimness feels very solidly put together. The non-removable metal back back cover contributes to that feeling of rigidity. The Guru weighs a reasonable 0.35 pounds (158 grams) - neither too light, nor excruciatingly heavy. It's a device that easily fits most pockets unlike larger screen phablets, but it's too large for comfortable single-handed use and typing in particular.
On the front, there are three capacitive Android navigation buttons that are located right below the display (these are not on-screen buttons and do not take up any screen space). All physical buttons are located on the left hand side - the lock key is around the middle and the volume rocker just above it. This positioning and the fact that the buttons are a bit recessed makes them just slightly less comfortable to press and find than we'd like. Still, one gets used to it after a while. There is a SIM card tray on the right and a microUSB and 3.5mm headset jack on top.
Display
The GSmart Guru features a reasonably large 5-inch display with a resolution of 1080 x 1920 pixels, as sharp as the latest and greatest smartphones out there. We were instantly impressed with it not just because it's a very sharp IPS LCD display with pixel density reaching 441ppi, but also because of the fairly accurate and pleasing colors. It's surprising how well calibrated a screen can be even on such an affordable device with only slightly niggles like a bit blueish white point and cyan vaguely out of balance. These are details not many people will notice, but if you are looking for a device with good color reproduction, this phone would be a good fit.
The GSmart Guru gets fairly bright and reflections are also not terrible, which makes the phone fairly convenient for outdoor use. Having an IPS screen, the GSmart Guru can brag about having some very decent viewing angles as it retains a lot of its original brightness and contrast at an angle.
We usually do not mention things like minimum brightness, but in the case of the Guru it does not drop low enough, so if you are reading in bed at night, it would definitely be too bright. This is not a huge disadvantage as you can grab an app from the Google Play store like Screen Filter or Screen Dimmer, but we wish Gigabyte had this figured out out of the box.
Display measurements and quality