Emporia LIFE Plus, TALK Premium and hagenuk fono e100: side by side
2

Note: From all three phones, only the Emporia LIFE Plus has a version supporting U.S. GSM frequencies.

Introduction:
Smartphones are all the rage now and have been the most revered and highly respected inhabitants of the cell phone world lately. There is nothing wrong with that really, but have you ever though what this means for older people? You know, the generation that still considers phones with number dials the best and will never admit paper letters are a thing of the past. While young people want more and more extra features, all that most of our elders need and wish for is a cell phone that is as simple and user-friendly as possible – with large buttons, powerful loudspeaker, robust battery, large-size fonts and basic functionality with simple interface that doesn't require a degree in quantum physics to operate. This is the type of cell phones we are going to talk about today.
Say "Hi!" to the slider
Emporia LIFE Plus
and the classic candybars
Emporia TALK Premium
and
hagenuk fono e100
– three handsets aimed at the customer group we described above.
Design and functionality:
Generally speaking, the overall design and appeal of a cell phone is one of the major factors behind its market success or failure. In the particular case of the Emporia LIFE Plus, Emporia TALK Premium and hagenuk fono e100, however, said factors are not of an utmost importance. We highly doubt it older people are keenly interested in the color scheme or material a handset is made from. They just need something to help them dial numbers, answer calls, have a conversation in the easiest way possible and see what's on screen (without having to resort to a pair of an inch-thick glasses). We will even go as far as to say that (within certain and reasonable limit, of course) the overall size and weight are not decisive factors either.
Size does not really matter... or does it?
Of all three, the Emporia LIFE Plus, Emporia TALK Premium and hagenuk fono e100, the only one that we consider overly bulky is the LIFE Plus and as we have already mentioned, it's a slider phone. When open, however, it is really huge. We guess most people will find it appealing – those with big hands would be happy that they have finally found a handset to meet their needs, while everybody else would probably be tempted to get one for its self-defense qualities (not a joke), because the device is literally on the hefty and voluminous side of life. Both the Emporia TALK Premium and hagenuk fono e100 have utterly acceptable overall dimensions and we even consider the latter compact.
All three are equipped with ordinary, monochromatic
displays
that are not touch-sensitive and have orange backlighting. Logically, the colossal Emporia LIFE Plus is the easiest to read text on, especially with the so-called "jumbo" function activated. The other Emporia model offers font resizing and we believe it also allows its owners to easily discern on-screen letters. The hagenuk fono E100 doesn't offer such a function, but the font is of large enough size, so it won't give you any troubles even if you happen to have a problem with your eyes.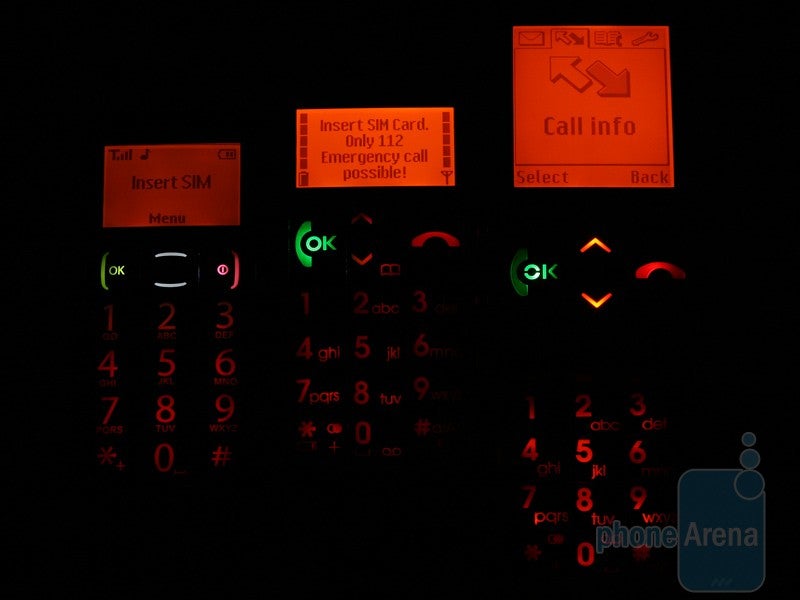 The buttons are… huge!
As Winnie-the-Pooh says "You never have them till you're having them" and this fully applies to the size of the buttons all three handsets are equipped with. In this case, however, it's not all about size, because the marks on them, proper backlighting and comfort of use are not to be underestimated. And the winner is… the Emporia TALK Premium with its black buttons with white letter pattern and bright backlighting that are absolutely trouble-free to press. The runner-up is the hagenuk fono E100 that integrates truly comfortable keypad, although the button designations tend to melt into the background color. The gigantic Emporia LIFE Plus comes up last and the reason is the buttons below the display (i.e. send, end and navigational keys) are unhandy, since they are quite hard to press.
There are other hardware buttons on the left and right hand sides of the three handsets, but they are not really easy to use in the case of the hagenuk fono E100, not to mention they are just a few alongside of what the Emporia duo is equipped with.
And let there be light
All three handsets sport extra features that are not exactly common with cell phones today –
torchlight
. The function is slightly harder to activate on the hagenuk fono E100 as compared to both Emporia handsets, because the button is actually a slider. On the other hand, the flashlight switch of the latter two is less comfortable to operate, because you have to keep it pressed all the time, while in the case of the fono E100 all you need to do is slide the switch. If you consider the torchlight of great importance, then you probably need to know that the Emporia LIFE Plus is the brightest, with the Emporia TALK Premium coming off next and the hagenuk fono e100 faring worst. For the record, they all emit light that is intense enough to help you find your keys or spot the keyhole in the dark.
Simple things can be unique too
Who would have thought that cell phones like these can actually integrate unique features? No, this is not a joke. Each one of the Emporia LIFE Plus, Emporia TALK Premium and hagenuk fono e100 comes with its unique option that is not common with handsets today.
- The Emporia LIFE Plus integrates an
SOS button
located on the back. Pressing it makes the cell phone immediately dial the emergency number for the country you are in. it's a good thing the special button (with the symbol of a heart on it) can be deactivated or assigned up to five additional numbers that are both dialed and sent a short message whenever you press the SOS key. Finally, it's built deep into the phone body, so pressing it by accident is unlikely.
- The hagenuk fono E100 offers similar functionality as well, although you don't have the option to add additional phone numbers to be dialed/texted in case of emergency. The
SOS button
is, however, just a slider that moves way too easily and we ended up calling for help on several occasions during our tests. We cannot say the experience was enjoyable either.
- The Emporia TALK Premium lacks a dedicated SOS button, but comes with a
retractable panel
that allows you to (physically) write down up to five telephone numbers and we do mean with a pen. This is quite a nice feature indeed, since you can just pull out the pane and see your daughter's number instead of wasting half an hour going through a lengthy paper directory. Cool, isn't it? We do think that modern Android handsets should be equipped with such a panel.
Simplicity – fundamentals of the interface
You don't really think that cell phones like these will be brimming with games and allow access to application stores full of software titles, do you? Everything about the
interface
of the Emporia LIFE Plus, Emporia TALK Premium and hagenuk fono e100 is minimalistic and simplified as much as possible, including phone book, text messaging, speed dial, alarms and event entry (to help you not to forget the birthdays of your grandkids). The only cell phone of these three that comes with a relatively richer functionality alongside of its brethren is the LIFE Plus.
No matter which one you opt for, the Emporia LIFE Plus, Emporia TALK Premium or hagenuk fono e100, the handset will be exceptionally easy to handle. Well, we like the TALK Premium best, because almost all phone functions are accessible via the buttons on either side of the device.
Recommended Stories