Diesel On Fadelite Review
We may earn a commission if you make a purchase from the links on this page.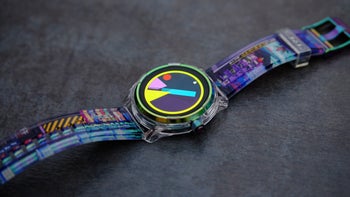 Smartwatches have long remained rather utilitarian in design even as they grow more refined, but Diesel's latest On Fadelite smartwatch stands out with its transparent body and prismatic trim. Beyond its slim, lightweight design, the watch features a speedy processor and a number of premium features, like heart rate sensing and standalone GPS.
Priced similarly to the new Apple Watch SE, Diesel's newest smartwatch ticks a lot of the right boxes for a higher end wearable, but it's also not without its flaws, like mediocre battery life and occasional performance hiccups. There are objectively better devices on the market just based on power and value, but the Fadelite's robust feature set likely won't disappoint those attracted to its unique aesthetic.
Design
The Fadelite is simply gorgeous. It's average-sized for a smartwatch at 44mm, with a slim, lightweight body featuring transparent casing and a prismatic finish for an altogether eye-catching look. The watch also has a On x MDJ special edition designed in collaboration with Canadian artist Mad Dog Jones, whose colorful style is reflected in two unique watch faces and a limited edition watchstrap.
The watch has a circular touchscreen display and crown button on the right for easy controls, while the opposite side features a heart rate sensor. The watch is packaged with straps in two sizes, which fit well but feel a bit stiff. After a week of usage, the band does feel a bit softer though, so this could just be a matter of breaking it in.
With its playful aesthetic and retro flair, it's definitely a design that demands to be the centerpiece, and it'll likely be a decisive factor for anyone who considers purchasing it.
Display
The Fadelite's round display is just under 1.2 inches, placing it in the middle of the pack as far as size goes. The display is reasonably sharp, and it also maintains good visibility under sunlight in the maximum brightness setting. The ambient light sensor can take a second to catch up as you move between lighting conditions, but I've found it does an admirable job overall. The touchscreen is also fluid and responsive through taps and swipes.
The watch arrives with more than 15 watch faces loaded. Some are more utilitarian, but I find that the more whimsical or futuristic options fit better with the Fadelite's overall look. Of course, you can also download tons of more watch faces from the Play Store.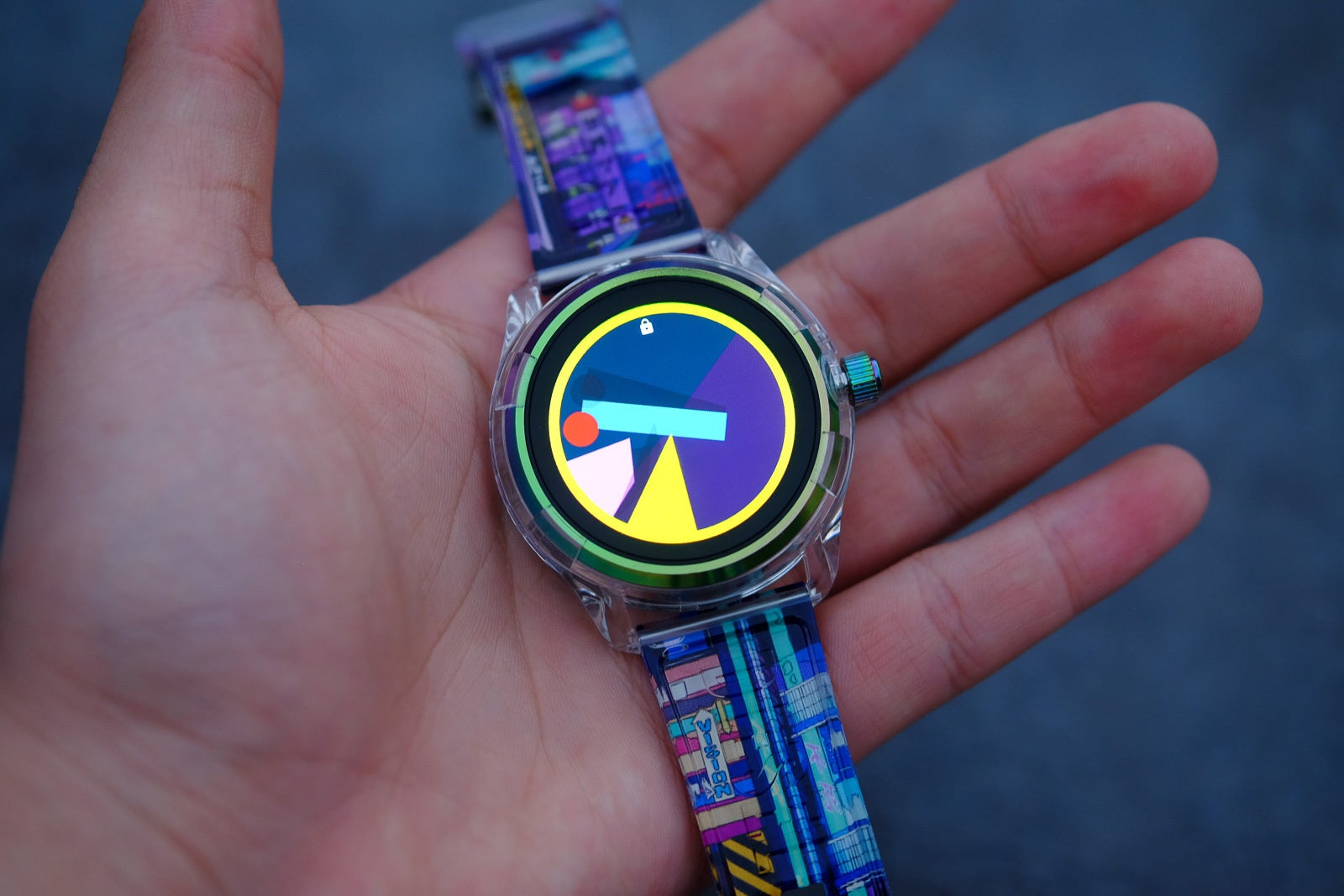 Performance
The Fadelite rocks Qualcomm's Wear 3100 processor, giving it top-of-the-line performance—in theory, at least. In real life, the smartwatch isn't always snappy, hampered by only 512MB of RAM (whereas its peers get 1GB or more).
The smartwatch occasionally runs into a few hiccups during animations, and somewhat frequently when processing commands through Google Assistant, but the overall performance is still pretty good—it's just that each sporadic slowdown punctuates how it might have been excellent instead.
Software & Features
The Fadelite runs on Wear OS (mine shipped with v. 2.17). Google's smartwatch operating system has received its fair share of criticism over the years, and justifiably so, but it's not as bad as it once was. The intuitive, tile-based system puts notifications and relevant info close at hand, making it easy to access the day's step count or the current weather.
Powered by Google Fit, the watch comes loaded with nearly a hundred activity tracking modes, which include standard options like running or cycling, along with more niche activities like cricket, curling, and even flossing, amusingly. Workouts are tracked accurately, while stats like time and estimated calories burned are positioned for easy access along with pause and stop controls.
The Fadelite also tracks your heart rate during workouts and throughout the day by default, while the swimproof design is great for accidental splashes or swimmers, of course. Unfortunately, there isn't automatic workout tracking or sleep tracking on board.
Elsewhere, the Fadelite is outfitted with niceties like NFC for contactless payment (more useful now than ever before) and standalone GPS. For further functionality, the smartwatch relies on the Play Store apps for Wear OS, which includes a robust selection of essentials like Spotify for music or Google Maps for directions.
Battery Life
Like many of its Wear OS brethren, the Fadelite is stuck with a battery life of 48 hours or less—a lot less, sometimes. The watch's default Daily mode enables all features all the time, but this mode sometimes struggles to last one day if your night gets a bit long. The Extended mode can go 2 or 3 days, but not many of the smart features are enabled.
Alternatively, I was able to strike a decent balance by enabling most smart features (Wi-Fi, Bluetooth, NFC, heart rate) but leaving the watch on power-frugal Time-only mode during the night. This way, I got a solid two days of usage per charge. Charging takes about 100 minutes, which is not impressively fast nor very slow. Overall, the battery life is acceptable but not particularly noteworthy.