BlueAnt Q1 vs. Motorola Endeavor HX1 vs. Jawbone Prime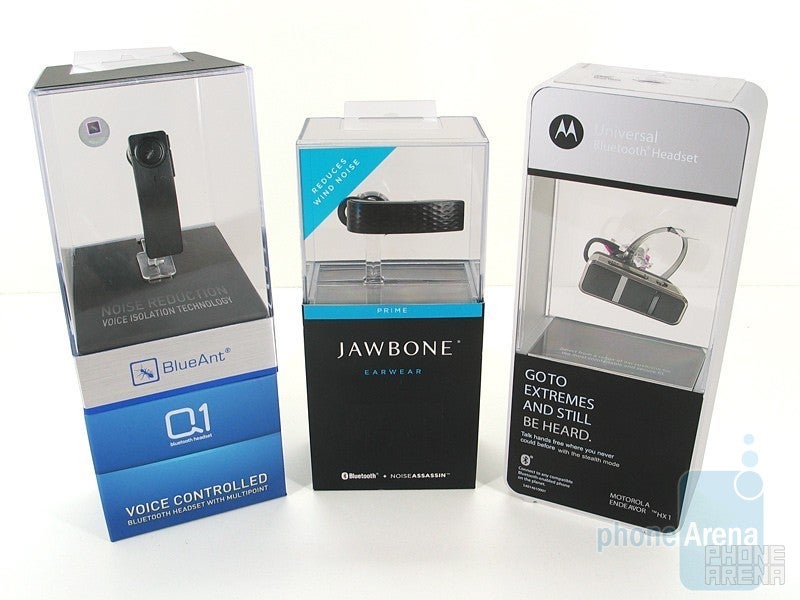 Introduction:
Bluetooth technology has come a long way, but like cell phones there is a wide array of models, features and price. Today we will take a look at three of the ultra-premium headsets on the market: the BlueAnt Q1, Jawbone Prime and Motorola Endeavor HX1. The former employs the latest in noise cancellation technology, while the latter two use bone conduction to some extent. Read on for an in-depth look at each unit.
Design:
Those familiar with the Jawbone II will not find much of a difference in the
Prime
. It comes in several colorsand the earbud has a loop, allowing users to ditch the earloop if they wish. There are six buds available: S/M/L with and without a loop. We preferred to leave the earloop in and use the normal earbud. It is easily the
most comfortable of the three
, especially for extended wear. It can be worn all day and we often forgot that it was on.
The
Motorola Endeavor HX1
follows in Motorola's traditional industrial design footprints. It comes equipped both an earbud and earloop. There are
four buds
, medium and large with a loop, as well as a spring bud for each ear. The latter was very confusing to use and we'd have preferred to see a normal bud option. Motorola suggests that you use both an earbud and the earloop, but we found it worked well enough without the earloop. The headset leaves no doubt when it is properly inserted; the earpiece protrudes deep into the ear canal so the bone conduction sensor can work properly. Despite the penetration, it was more
comfortable
than we had expected. We could wear it for hours at a time, though we were aware that we were wearing it.
The
Q1
is very simplistic, offering just two ear buds and one size earloop. It is
very thin, and immediately fit very comfortably
onto the ear. However,
extended wear was an issue
; even the small earbud sealed our ear which was good for sound quality, but caused a pressure buildup and we would periodically have to take it out.
Each headset aims to be as stylish as it is functional, but
in our opinion the BlueAnt hits the mark best
. It is an extremely stylish headset with an understated elegance. The Jawbone best blended style and function however as it was the most comfortable to wear.
Recommended Stories