Asus ZenPad S 8.0 Z580CA Review
25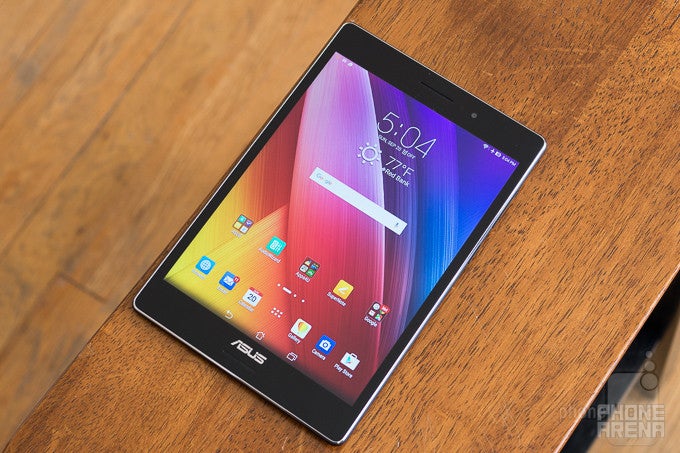 Introduction
It's been a while since we've last reviewed a dedicated tablet from Asus, seeing that the last one we got the chance to check out was the hybrid
PadFone X mini
from last year. Most companies nowadays tend to shy away from high-end tablets, especially on the Android side, but Asus comes back swinging with something delicious in the svelte
ZenPad S 8.0
. Now, there are variants of this particular model, but the one we're dealing with here, the Z580CA, is the company's flagship tablet that strives to balance work and play.
The package contains:
Asus ZenPad S 8.0 Z580CA
microUSB cable
Wall charger
Get start guide
Important information
Design
Almost unbelievable we're dealing with an 8-incher here, just because it looks and feels more like a 7-incher.
You'd hardly think we're dealing with an 8-inch tablet here, just because it feels and looks more like a 7-incher thanks to how they've trimmed the footprint to achieve an impressive 74% screen-to-body ratio. What's even better, is the fact that its design blends sophistication and elegance with its hairline patterned metallic chassis and a soft-touch leather accent that's hugging one side of the tablet in the back. Even though it's still a bit wide to comfortably grasp with a single hand, its lightweight (298g) feel and svelte profile (6.6mm) do nicely in giving it some notable traits for a tablet of its caliber.
Unfortunately, the power button and volume controls lack any decent feedback when pressed – so you never know if you've actually pressed down on them or not. What's really interesting, though, is the fact that it's one of the few devices in the space right now with a USB Type-C connector, ensuring that it's one step ahead of the game. And lastly, Asus blesses the ZenPad S 8.0 with dual front-firing Sonic Master speakers with DTS HD Premium Sound.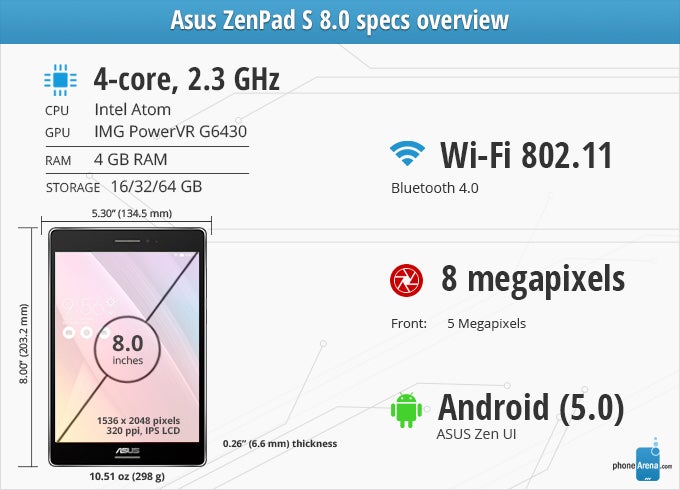 Display
We like its 2K resolution, but not so much with the other characteristics of the display.
Cementing its place as a premium tablet, the ZenPad S 8.0 is fashioned along with an 8-inch 1536 x 2048 (QXGA) IPS display with Corning Gorilla Glass 3 protecting it. Details, unsurprisingly, are plentiful factoring in its 8-inch real estate with its generous resolution – giving it a respectable pixel density of 320 ppi. As much as we take fancy over its sharpness, there's just this subdued overall tone that lessens its attractiveness.
For one, its peak 387 nit luminance makes it troublesome to view outdoors when the sun is out, which can be the main contributing factor to its subdued appearance. Secondly, the display exhibits a colder tone with its ~7300K color temperature, giving colors a hint of blue. And while it's technically not perfectl in hitting all the target values in the sRGB colorspace, it does nicely to stay within a certain degree of tolerance – though, the various shades of magenta tend to favor some bluish hues to them.
Display measurements and quality
Recommended Stories