Apple iPhone 5 vs Apple iPhone 4S
48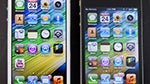 Introduction:
When the
iPhone 4S
was unveiled last year, feelings of disappointed started to engulf many people, as it turned out being nothing more than a revamped iPhone 4. Well, one year later, and the industry finally got what it wanted in the
iPhone 5
– regarded by many as the biggest undertaking by Apple since the original back in 2007. Now that it's finally here, we bet there are some iPhone 4S owners out there wondering whether it's worth the investment to make the upgrade. Let's take a peek, shall we?
Design:
Here's the thing about these two beauties, they share the same foundational design DNA that was established with the iPhone 4 from a couple year ago. Despite the obvious that the iPhone 5 is longer, it's remarkably lighter and skinnier than its predecessor, making it as comfortable to hold in the hand as the iPhone 4S. Plus, the iPhone 5's brushed aluminum rear sports a cleaner overall look, as opposed to the glass surface of the iPhone 4S, which tends to exhibit more smudges. So yeah, the iPhone 5 has enough distinction over its predecessor to stand out more.
Being iPhone and all, it's no surprise that we find the same recessed
home buttons
below their displays. However, the iPhone 5's button has a springier response – whereas the iPhone 4S has a less pronounced response.
a tour around the two handsets
, they share many commonalities such as their separated circular-sized volume controls, mute switches, responsive power buttons, microphones, and internal speakers. However, as we know by now, the iPhone 5 ditches the 30-pin docking port of past iPhones, which the iPhone 4S obviously packs, in favor of a tinier proprietary Lightning docking port. Additionally, the two differ as the iPhone 5 now boasts a nano-SIM slot, as opposed to the micro one from before.
1.3
-megapixel
front-facing camera
, versus the 0.3-megapixel one on the iPhone 4S. And even though the two are flaunting
the same sized 8-megapixel cameras with LED flash
, the iPhone 5 is actually outfitted with a new backside illuminated sensor, a reworked lens, and a sapphire glass encasing the entire getup.
Display:
Now this is where it gets interesting, just because as we know, the iPhone 5 moves up to a larger 4-inch 640 x 1136 Retina Display – while the iPhone 4S sports a 3.5-inch 640 x 960 Retina Display, keeping the same 326 ppi. Conversely though, when it comes to color production, brightness output, and viewing angles, the iPhone 5 has the superior quality to make it the more compelling display. In fact, its colors are now noticeably warmer, and about 44% more saturated. Furthermore, we notice that the iPhone 4S Retina Display displays more distortion at different viewing angles – whereas the iPhone 5 maintains its sharp clarity and is better looking in the direct sunlight.