Acer beTouch E200 Review
1

This is a global GSM phone. It can be used with AT&T and T-Mobile USA.
Introduction:
Having seen Acer´s first Windows phones (the
DX900
,
X960
,
F900
and
M900
), it´s time we had an all round look at the first Windows Mobile 6.5 devices of the manufacturer. Brace yourself and get ready for a most exciting adventure full of unexpected twists and breathtaking moments. Let´s get started on our journey to Acer´s world by taking a closer look at the
Acer beTouch E200
, a device aimed at people on the lookout for a Windows phone with numeric keypad. Here is what´s in the box:
• Acer beTouch E200
• Wall charger
• USB cable
• miniUSB headset
• Guarantee card
• User manual
Design:
The Acer beTouch E200 sports an austere and appealing overall design. Its slider mechanism works great and doesn't feel fragile or wobbly. Our positive impression holds true for the fine quality of workmanship of the beTouch E200 as well. The phone feels solid in your hand and this gets emphasized by its hefty weight.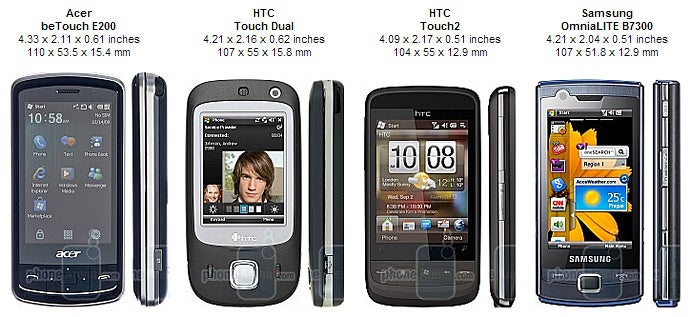 You can compare the
Acer beTouch E200
with many other phones using our
Size Visualization Tool.
The 3-inch resistive, touch-sensitive
screen
loves fingerprints and they ruin the pleasure you get out of using the device. When clean, however, the screen with a native resolution of 240x400 pixels delivers relatively good image quality. It has passable sensitivity and it's the interface of Windows Mobile 6.5 that causes most of the problems during navigation throughout the menus.
The send and end keys, along with the D-Pad that surprised us with its slightly sunken OK button are
below the screen
. We are pleased at the fact that even in the rare occasions when we fell back on it, it didn't disappoint us.
Both sides
of the phone have a gray, metallic color, much in step with the austere overall look of the Acer beTouch E200. The screen lock, volume rocker and miniUSB port are on the left hand side, the camera shutter is on the opposite.
The stylus
compartment is in the upper left and you better remember its position well, because you will come to rely on the magic wand way too often.
Open the slider and you will face
the numeric keypad
. What we like most about it is its buttons are extremely pleasing and easy to press. They are large enough and have a clearly discernible "click" feedback. As a whole, all buttons of the Acer beTouch E200 are properly implemented and we didn't have any troubles using them.
The back panel is rubberized
and the manufacturer´s decision is more than welcome. Given the Acer beTouch E200 is quite hefty, it would have been bad to feel it sliding in your hand. Thanks to the rubber coating, however, this is not the case. The back side also hosts a 3.2-megapixel camera and a loudspeaker.
Acer beTouch E200 360 Degrees View: