Acer Liquid Z3 Review
12
Introduction
Acer has a stellar track record as a master in the inexpensive electronics branch, originally starting off with PCs and laptops, and more recently – tablets and smartphones. With that in mind, the
Acer Liquid Z3
falls right into the very field of expertise of the Taiwanese company – at €99 (about $132) it's truly a budget-friendly offering.
But, smartphones on the cheap have ceased to be a novelty, though the traditional concerns are still present: does an affordable price tag spell low quality? Not necessarily it would appear, and the pocket-friendly 3.5-inch Liquid Z3 is a prime example. Of course, that's not to say that no trade-offs are involved, so the real question is whether the Z3, as a whole, is worth it? Let's find out.
In the box:
User manual
USB cable
Wall charger
Acer headphones
Design
Trendy as they may be, Acer hasn't gone for a variety of colors with the Liquid Z3 – it's only offered in black & white, and we've got the arguably less attractive black version. The Z3's design amounts to more than the frugal price tag suggests – it's obviously plastic, but real sturdy at that, not to mention compact. Let us emphasize that this is a very well put together piece of hardware for its price range – there are no cracks in the profile of the device and it didn't so much as creak despite a considerable amount of force being exercised on its sides.
There's no mistaking the Acer Liquid Z3 for a premium device. But it doesn't feel cheap, either. The rounded back of the device features a brushed matte plastic, making the device a pleasure to hold. Moreover, while at 0.41 inches (10.4mm) thickness, the Liquid Z3 is leaning slightly more towards the bulky category, we found that to be a good thing in terms of ergonomics. At 4.23 oz (120g), the Z3 weighs enough to make its presence known, but no more.
The Z3 features capacitive platform buttons, instead of software ones. Up on the right, there's the volume rocker, while top middle is where you'll find the power button. Both physical buttons suffer from a shared flaw – there's barely any travel to the keys, and they provide very little feedback. What's even worse, both keys require you to use some force to get them to register your press.
Display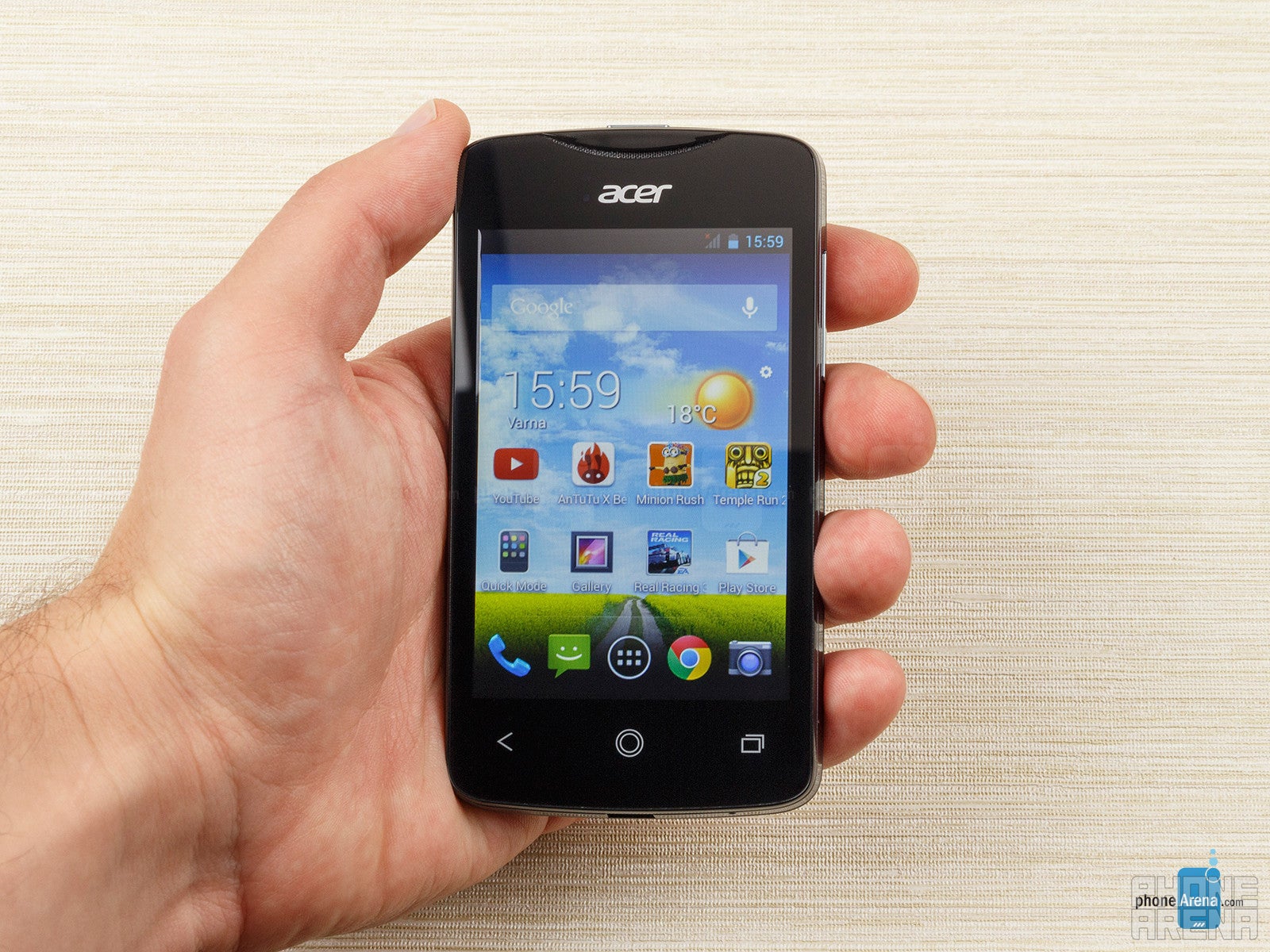 The TFT screen on the Acer Liquid Z3 is perhaps its biggest weakness. While size preferences are certainly subjective, the Z3's 3.5-inch display is definitely far from the norm, as far as Android devices go. And while we can definitely understand that some people simply prefer compact phones, there's no denying that the 320x480 resolution (165 ppi) is edging on the sanitary minimum nowadays. But, it's not all bad – the screen is not unpleasant to look at – it won't be turning any heads, but it's adequate considering the target group that Acer is shooting for with the Z3. Viewing angles are also good, though the glass on top of the screen has made the Z3 quite reflective.
Recommended Stories