See how the Vivo NEX pop-up selfie camera works on the inside
22
The Vivo NEX has one of the most staggering smartphone designs ever. It's as close to bezel-less as we've ever gotten, and aside from a minimal frame that's slightly thicker at the bottom, the Vivo NEX is pretty much one big screen. To achieve this, the company employed glass-vibrating technology that basically turns the screen into an earpiece, and hid away the front-facing camera, so there's no need for a top bezel (or a notch) to house them.
If you haven't yet seen the NEX and are wondering where the selfie cam is, it is built into an element that pops out of the top of the phone on demand. It looks seriously cool and is one of the better ways we currently know of for eliminating the top bezel, but the main concern with this approach is obviously the longevity of the mechanism responsible for lowering and raising the camera.
Vivo says the NEX camera is rated for 50,000 actuations and can withstand up to 45 kg without breaking. For reference, the shutters on most DSLR cameras are rated at 100,000 to 150,000 actuations, so Vivo's numbers are not bad, and if the mechanism is well-engineered, it could withstand more. Of course, the question of how external damage to the phone – say, dropping it while taking a selfie – would affect the camera, still stands.
But all potential issues aside, it's still intriguing to see how the pop-up camera works on the inside, and thanks to
MyFixGuide's
teardown of the Vivo Nex, we can now do just that.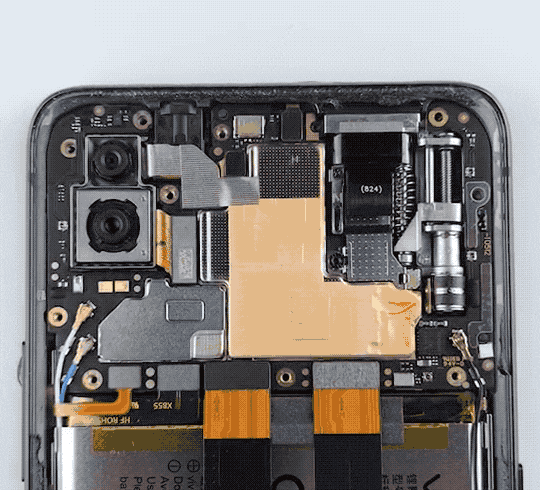 Another phone over from Asia that does something similar is the
Oppo Find X
, although it has a bigger mechanised camera that houses both the front- and rear-facing modules. We'd definitely love to see how it works from the inside as well, as it is a similar concept, but a different execution.
So, would you buy an all-screen phone with a mechanical camera, or are you a stickler for traditional, solid-state sturdiness? Tell us in the comments below!