Official Samsung video shows you how to apply key Galaxy Z Fold 4 accessory
5
We may earn a commission if you make a purchase from the links on this page.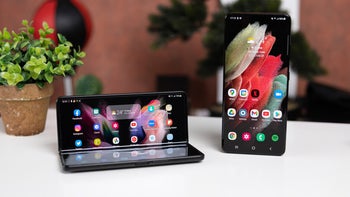 Officially, Samsung will start delivering the
Galaxy Z Fold 4
(and the
Galaxy Z Flip 4
) next Friday or a week from today. The phone is priced starting at $1,799 which makes it an expensive device that you are going to want to protect at all costs. With that in mind, Samsung offers optional protection for the 6.2-inch Cover Screen which it calls Front Protection Film. Available as a separate purchase, the accessory also comes with an applicator that allows you to apply the film "without leaving any crease or dust underneath."
So how do you apply the screen protection just right?
Samsung
has released a video lasting 1 minute and 23 seconds that will go through the steps with you. Watching the video will make this important task much easier as it shows you where to place the applicator, and how to use the Dust Remover to get the dust off of the screen. And after you put the protection film down on the display, the included squeegee is used to make the film flat and to help remove a protective layer that is designed to be peeled off the layer of protection.
The Dynamic AMOLED Cover Display, as we noted above, weighs in at 6.2-inches and includes a 120Hz refresh rate. This means that the screen redraws itself 120 times per second. The resolution is 904 x 2316 with an aspect ratio of 23.1:9. The external display is protected by Corning Gorilla Glass Victus+. The internal tablet-sized Dynamic AMOLED display is 7.6-inches with a resolution of 1812 x 2176 and peak brightness is 1200 nits. It also features a 120Hz refresh rate.
Keep in mind that the inward folding design of the Galaxy Fold 4 means that when the device is closed, the internal display has some protection. We'd suggest buying a protective case that will save your expensive foldable from the inevitable drops that it will face. While the internal display does have the aforementioned protection when the device is closed, that isn't the case for the Cover Display which is always vulnerable.

While you haven't received your Galaxy Z Fold 4 yet, you might want to bookmark this article just so it will be handy for the day when your new foldable arrives with the Front Protection Film that you also ordered.

Still time to pre-order the Samsung Galaxy Z Fold 4