Best EE iPhone 13 deals in May 2023
We may earn a commission if you make a purchase from the links on this page.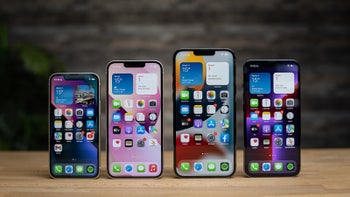 EE is one of the most expensive carriers in the UK (no sugarcoating needed here), and as you know, the iPhone 13 series is not at all cheap, as usual with recent Apple flagships. But that's where deals come in, and this article aims to help you find the best offer by EE in May 2023.
EE sells the four iPhone 13 models from the family on monthly plans, so you need a contract to get your new iPhone from the network provider. On top of EE's ultra-high mobile network speeds and reliability, you can get very cool Smart Benefits (in other words, extras) with the purchase of your iPhone 13 phone with the carrier (with select plans).
Smart Benefits offers include subscriptions for Apple Music (usually worth £9.99 a month), Apple TV+ (usually worth £4.99 a month), Apple Arcade (worth £4.99). But you have more to choose from: you can also decide to go for Apple News+, BT Sport Ultimate if you're a sports fan, Roam Abroad if you travel a lot and Video Data Pass (which gives you access to Netflix, YouTube, BritBox and more).
Right now, you can also get Apple One included with your Unlimited plan – this offer is valid for all four iPhones in the series.

So, without further ado, let's jump into what deals EE has going on for the iPhone 13 series.
Jump to:
EE iPhone 13 deals
Right now, if you're going for the
iPhone 13
, you can get it at its retail price at EE. You get to choose between various data plans to find the one that best fits your need. Apple One is included with some of the plans.
EE iPhone 13 mini deals
The Apple One offer is present for the most compact iPhone from the current flagship line, the
iPhone 13 mini
, as well.
EE iPhone 13 Pro and Pro Max deals
This article is regularly updated, so when new offers show up, we will have them here for you. Don't hesitate to bookmark this page and check back later for new offers.

Can I get buy a iPhone 13 from EE without a contract?
No. EE sells the iPhone 13 as Pay Monthly, with a contract, and all phones that you buy from EE will be locked to EE. Alternatively, you can choose to go for Pay As You Go if you want another phone, but this doesn't include iPhones, so you'll have to settle for Pay Monthly plans.

Is it worth getting an iPhone 13 from EE?
EE is, as you can see, one of the most expensive carriers in the UK. However, getting an iPhone 13 from EE ensures you'll be able to benefit from the carrier's great 5G network and extras with your plan. To add to the answer of this question, let's look at what other carriers offer in terms of iPhone 13 deals. Currently,
O2's iPhone 13 deals
offer savings on select plans, meanwhile
Virgin Mobile deals for the iPhone 13
's main advantage is the overall cheaper plans.
Vodafone's iPhone 13 offers
are usually centered on discounts for the plans, but right now, the carrier doesn't offer epic discounts.
Also, you can check our other selections of deals here: