Snapchat brings its AR Lenses to Viber on Android and iOS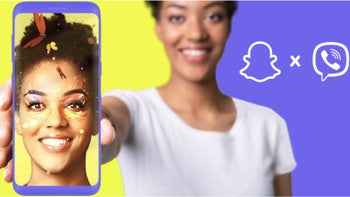 Viber
and Snap have teamed up to bring the latter's new AR Lenses to the messaging platform. The partnership will integrate AR Lenses in the Viber app, enable sharing to Snapchat, as well as bring customizable Bitmoji avatars to the messaging app.
The new feature will offer Viber users AR-enabled video messaging for the first time ever. In addition to bringing
AR Lenses
to its app, Viber also launched 30 new lenses, including animal masks and characters, an underwater lens, goofy cat interactions, and more.
The company plans to add between 50-70 additional lenses per month, amounting to at least 300 lenses by the end of 2021. Also, businesses will have the opportunity to create their own exclusive lenses on Viber. Speaking of businesses, Viber has already revealed that FC Barcelona, the World Wildlife Fund, and the World Health Organization will be among its first partners to offer new lenses on the messaging app.
The adoption of Snap's Camera Kit, Bitmoji, and Creative Kit will allow Viber to add new features to its messaging app, including instant AR (augmented reality), new filters, expressive masks, beautification features, and customized Bitmoji.
Viber also plans to offer sponsored and branded lenses to ensure a stable revenue stream. According to
Viber
, the new features are now available for iOS users in the following countries: Australia, Austria, Belgium, Canada, Denmark, England, Finland, France, Germany, Greenland, Iceland, Ireland, Israel, Italy, Japan, Liechtenstein, Luxembourg, Maldives, Netherlands, Norway, Portugal, Spain, Sweden, Switzerland, and the USA.
The AR Lenses are only available on the beta version of Viber for Android, but the company promised to make these new features available to all Android users by the end of August. The same goes for Viber users in countries other than those mentioned above.