Don't hold your breath for a Galaxy Fold... things are looking pretty bleak
43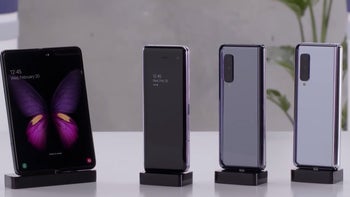 Tomorrow... could've been a pretty special day for tech enthusiasts. Tomorrow is the day we should've been able to get the first batch of
Samsung Galaxy Fold
phones. The pre-orders were made, the device was selling like hot cakes. The tech world was brimming with excitement.
But, alas, it was not meant to be. Early units that were sent to tech pundits worldwide
began failing
. Some were damaged by their owners, who tried to remove a layer that kind of looked like a screen protector. Turns out — it wasn't. Other units just began failing for what looked like random reasons.
Samsung did the best that it could do — it recalled absolutely every unit it gave away and postponed the Fold's launch. For how long?
Initial reports said we'd have to wait until
the 13th of June
, which... well, it's not that bad, it's less than a couple of months, right? Well, we wouldn't hold our breath.
See, these reports weren't officially confirmed by Samsung. They were based on AT&T messages that were sent to customers who pre-ordered the Galaxy Fold through the carrier. The users reported that AT&T is letting them know that the new shipping date for their foldable phones is the 13th of June. However, it might just turn out this date was nothing but a placeholder.
Just as the AT&T posts gave us hope that we might see the Fold soon, it's also the AT&T listings that are now back to crush that hope. The date "June 13" is now gone from the carrier's web shop and the Galaxy Fold is listed as nothing more but "Out of Stock". Also, customers who pre-ordered the phone
are reporting
that their order status page has also changed — it used to parrot the June 13 shipping date. Now, there's no info to be found, just a "cancel order" button for those that would rather get their money back.
In other words:
June was just a dream. The real launch date for the Galaxy Fold is a mystery and we have no idea how long Samsung will take to fix the critical issues. In fact, we don't even know if the device will get fixed and relaunched or if it will follow in the footsteps of the Galaxy Note 7. Of course, we hope it gets its second chance (and soon), but we suggest you arm yourselves with patience and prepare for the worst...