List of paid Android games that are now free, grab them while you can!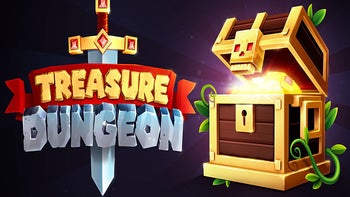 Are you looking for some neat new games to play on your Android smartphone? If that's the case, you might be pleased to hear that several titles that are usually paid are now available for free on Google Play.
This collection features several different genres, so we've made sure to include a video (where available) or gameplay image and a description below each title in order to aid you in the selection process.
Also, make sure to check out the end of sale times for each game next to the respective download link. At the time of writing (March 30th), some of these titles only have a few hours left in their "freebie" period, so it's advisable to download anything that you like fast. Without further ado, let's see what's on the list!
Treasure Dungeon - Action RPG
Treasure Dungeon is a lovely action RPG with Crossy Road-style graphics. The storyline of the game is rather typical – you are a thrill-seeking adventurer who has arrived at a mysterious island. A legendary treasure is buried somewhere on the isle, and you'll have to raid the many dungeons to try and find it. Of course, many monsters and traps will stand in your way, but with a little skill and luck, you will locate powerful artefacts to help you on your journey through this fantasy world.
Aside from the tons of weapons and armor that's up for grabs, there's also a character progression system where you can level up. The dungeons are procedurally generated, and there are no ads or in-app purchases to distract you from your sessions.
Is Stick Shadow: War Fight a shameless DBZ fighter ripoff? Yes. Does that prevent it from being a super fun title? Absolutely not. The creators of this game are quite honest about where they got their inspiration from. Even if they weren't, anyone familiar with the Dragon Ball universe would instantly recognize what's going on with Stick Shadow.
You can collect and unlock different characters that total a roster of over 20 fighters. From there, you can upgrade and unlock 20 special moves that are unique for each fighter. Stick Shadow: War Fight offers high-octane action in HD graphics and we recommend it for those of you looking for something fast-paced with simple controls.
Despite its cartoony appearance, Duck Warfare is a game that we wouldn't recommend for children. If you're an adult with a twisted sense of humor, though, you should definitely try it out. In a nutshell, you take the role of a flock of yellow duckies who are trying to protect their park and pond from the GÜSCO (pronounced goose-co) corporation. Gameplay is simple - you have a cart of duckies that serves as a spawn base at one end of a level, and a vehicle or some other item that spawns bad guys at the other end of the level.
Each base has hitpoints, and your objective is to reach the enemy's base and destroy it. There are a total of 24 ducks with different abilities to choose from and 5 areas with 40 different unique enemies. As for the humor part, you'll find it in the story mode and descriptions. We really do recommend that you don't skip these! There are no ads or IAPs, so we really urge you to give Duck Warfare a go.
A Dark Dragon is a survival RPG that's quite heavy on text-based storytelling. After an epic fight, a mysterious powerful dragon has crashed on the deserted Dark Island. Your task is to capture the beast and then escape from this wretched place. You'll have to build a village and attract new settlers in order to survive at first. Your search won't be short or easy, and you'll need to be ready for the horrors that await in the dark.
If you're a fan of physics puzzlers and chain reactions, Laserbreak Pro is a title that you simply have to play. The concept is straightforward - move the laser turret in a position that allows it to destroy the "X" cube and/or coins present in a given level.
This is simple enough for the first few stages, but, as always, things get more complicated from there on. There are a lot of levels and physical objects that you can interact with, and you will surely love the game if you have a soft spot for puzzlers.
Hexasmash 2 is the work of the developer behind the famous Laserbreak 1 and 2 titles. If you've played one of these, you'll find out that the concept of Hexasmash 2 is pretty similar. It's a physics puzzler game where you have to shoot balls in order to destroy all the blue hexagons. Do this, and you pass to the next level. Naturally, there are tons of levels and physical objects to interact with, making this a great time killer that will also challenge your logical skills.
This casual 8-bit title is a mix of Mike Tyson's Punch-out and a Pokemon-like RPG. The gameplay is incredibly simplistic - you choose a class for your character and then you are thrown into an arena, tasked with slaying monsters, one after the other. The evil spawn gets tougher and tougher with each beast slain, and at every 10 levels, you get to fight a boss.
The controls are simple - you have one button for attack and three buttons for dodging. Your enemies have different attack patterns, and you have to make sure to avoid them to have a chance at progressing to the higher levels. Picking the "Novice" class at the beginning is recommended, as the game gives you cues as to where your enemy is planning to attack. After you gather enough points and get a grip of the mechanics, you can try out the other classes. Pro tip: attacking monsters just as they spawn will deal a critical hit.
Dead Bunker 2 is a member of the horror first-person shooter genre. The game setting is quite dark, so most of the times, you'll have to rely on your flashlight to navigate through the stages.
You take the role of a mercenary who gets a contract to retrieve data in a group of abandoned laboratories. Biological experiments have been conducted in these labs, so throughout your journey, you will have to face the horrors that inhabit these areas. Stock up on weapons and ammo, and do your best to survive.
Stickman Ghost 2: Gun Sword - Shadow Action RPG
Stickman Ghost 2: Gun Sword
is a side-scrolling hack and slasher that's quite fun to play. You can choose between many different characters, each with their own unique style of slaying the enemy. Advancing through levels increases your stats, and allows you to collect items and unlock additional heroes. There's a normal mode and a separate boss mode that's quite hardcore.
A nifty feature of this hame is the multiplayer mode - you can connect and play with a friend through Wi-Fi or Bluetooth. Keep in mind that the game does include a fair bit of grinding, but at the end of the day, most of these action RPG titles are centered around this concept.