This is the OnePlus 11 5G design
4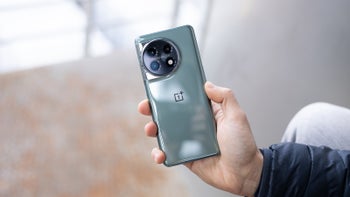 Do you want a teaser about one of the most anticipated Android phones of 2023? Well, we are here to serve you, so behold above the design of the upcoming OnePlus 11 5G, the company's flagship phone for 2023.
The OnePlus 11 5G looks stunning and you can see the new round camera system with the Hasselblad branding front and center, which replaces the square one from the previous model.
Notice the attention to detail as the camera island organically extends from the back glass and it's small things like this that really show OnePlus' commitment to a stylish design.
You can also see the triple rear cameras as well as the LED flash on the back. And yes, it brings back that signature OnePlus Alert Slider that we all love! OnePlus had removed it from the OnePlus 10T, which raised concerns that the beloved feature might be gone for good, but... nope, it's back.
If you follow the news, you probably already know a few things about the OnePlus 11. The company is already selling a version of the phone for the Chinese market, and if we are to go by that model, we would assume the international model would be quite impressive. The version launched in China runs on the Snapdragon 8 Gen 2 chip and comes with up to 16GB RAM. Not just that, charging speeds on that model are even faster, so we might see a similar increase in the global model too.
The screen on the front is curved, but unfortunately we are not allowed to show it to you just yet. Unfortunately, we cannot tell you about the software either or any other impressions for that matter.
So consider this just an early teaser for a full review and more exciting content around the OnePlus 11 that will come soon.
OnePlus will hold an event where it will officially unveil the OnePlus 11 5G in less than two weeks, on February 7th, so bookmark that date, and don't forget that we are constantly covering news stories about the upcoming phone too, so stay tuned.