Messaging app looks at faces to help people detect sarcasm
4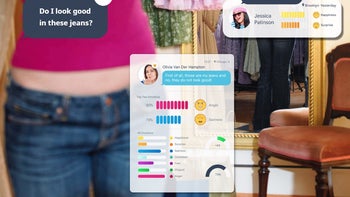 Text messaging is the preferred method for communication these days, but the inability to convey emotions, obvious during a call or a face-to-face talk, can sometimes lead to misunderstandings.
Kevin Knull, CEO and co-founder of Truthify, finds that to be such a serious problem, that he decided to develop a messaging app capable of reading people's emotions while they use it.
The app uses artificial intelligence and machine learning to analyze 43 facial muscles 14 times a second, using the front-facing camera of your device. The algorithms work while you are creating your message of choice (video, picture or text), as well as when you are reading(watching) your friends' messages. As a result, the software gives seven emotional states – fear, anger, disgust, happiness, contempt, sadness, surprise – percentages to signify the strength of each emotion detected, highlighting the top two. Both parties involved in the conversation can see both results and presumably think about if they should continue to be friends.
While this is definitely an interesting approach to messaging, even if the AI can identify the emotions accurately enough, it is questionable how many people will be comfortable sharing that information not only with the people they are talking to, but the app as well.
Besides revealing that you didn't enjoy seeing the picture of your coworker's baby, Truthify also wants to provide emotion information to advertisers. It's not clear if that means only data gathered while you're shown an ad, or it also includes how you felt during your conversations. Even if it's just the former one, the ability to see how users reacted to an ad has obvious benefits for advertisers. If you think that's a step too far in your privacy, the developer ensures that all the information is anonymous.
Similar technologies are being developed by other companies as well, so don't be surprised if one day you get an antidepressant ad because you were looking at your phone with a sad face.
The app is only available for iOS devices for now, but an Android version is coming soon, according to the developer. How many people will be willing to expose themselves for the sake of honesty, is yet to be seen.
source:
Truthify
via
VentureBeat