T-Mobile now allows subscribers to join Apple's iPhone upgrade program online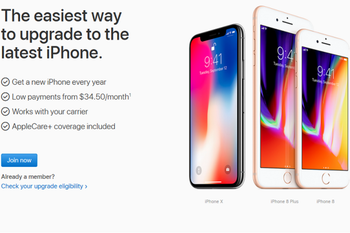 T-Mobile is ready to save its subscribers some gasoline and wear and tear on their cars. That's because the carrier is now allowing its customers to join the Apple iPhone Upgrade Program online. Previously, those on T-Mobile had to take a trip to an Apple Store to sign up for the program, which allows you to trade in an unlocked iPhone purchased from Apple, for a new model after 12 monthly payments.
Keep in mind that the cost of the program, which currently ranges from $56.61 a month for a 256GB Apple iPhone X, to $34.50 monthly for the 64GB Apple
iPhone 8
, includes AppleCare+. Now, if you have been in the plan any time from October 2017 to March 2018, you can still upgrade to one of the new 2018 iPhone models by making enough future monthly payments to bring your total number of payments to 12. For example, if you signed up in March, by next month you will have made six payments. If you make the next six in advance, you can then swap out to a 2018 iPhone.
The Apple iPhone Upgrade Program takes your annual iPhone purchase out of your wireless provider's hands and puts them squarely in Apple's. And if you change carriers while signed up for the program, that's perfectly fine. With the addition of T-Mobile to the Upgrade Program's website, we can now say that if you are a Verizon, Sprint, AT&T or T-Mobile subscriber, you can sign up for the Apple iPhone Upgrade Program by clicking on the sourcelink below.