Apple's iPhone XS, XS Max, and XR come with theft and loss protection... at a huge cost
13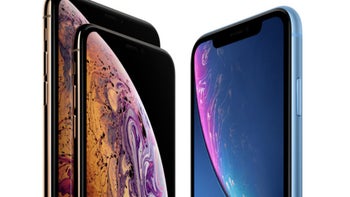 If you're thinking about purchasing
a hot new
iPhone XS
,
XS Max
, or a slightly lower-cost
iPhone XR
, you may want to set aside a little more than the handset's base price. Buying a protective case is always a must when dealing with a device made from easily breakable glass, actually enabling the three's fast-charging capabilities will
also cost you extra
, and then there's AppleCare+.

As usual, you're offered one year of hardware repair coverage through the company's limited warranty program, with AppleCare+ extending that service for an additional 12 months while also providing 24/7 tech support and (up to two incidents of) accidental damage coverage.

The good news, which for some reason Apple didn't mention on stage at the product launch event yesterday, is there's finally an AppleCare+ with Theft and Loss option. The bad, of course, is the price.
You'll have to pay a whopping $299 upfront fee just to enlist in the AppleCare+ with Theft and Loss program after buying the
iPhone XS
or XS Max, with additional payments required if anything actually happens to your precious new mobile device.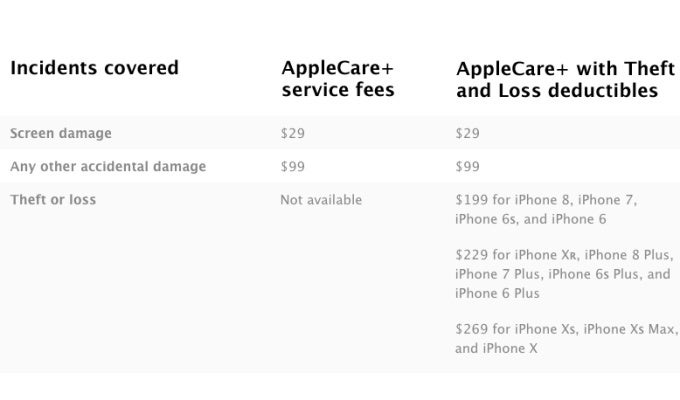 We're talking an extra $29 for screen damage, $99 to cover "any other" accidental damage, and $269 (!!!) to get a stolen or lost iPhone XS or XS Max replaced. The same $269 deductible applies to the original
iPhone X
, while losing your
iPhone XR
, 8 Plus,
7 Plus
, 6s Plus, or 6 Plus will "only" result in a $229 replacement fee.

There's also one very important condition you need to meet to qualify for theft and loss coverage, namely having Find My iPhone functionality enabled on your device "at the time it is lost or stolen."

Of course, if you're merely interested in "traditional" AppleCare+ coverage, a $199 down payment will do the trick... until you damage your iPhone XS or XS Max, at which point you'll be kindly asked to cough up an extra $29 or $99 for a repair with a maximum of two incidents covered.