iTunes Match goes live
20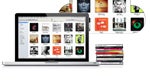 It may be fashionably late, but Apple's
iTunes Match
service is now rolling out to customers. The service allows you to sync your iTunes collection in the cloud, allowing it to be streamed to any Apple device, or a PC running iTunes. Apple had originally promised it by the end of October.
iTunes Match mirrors iTunes collections in the cloud, matching your purchased list up with copies already sitting on Apple servers. As a perk, the matched files are all DRM-free AAC files at 256kbps, even if the original copy was stored at a higher compression rate. Music ripped from CD or purchased from another source is also matched as long as iTunes also has that song in its catalog. If not, it uploads the song to the Apple servers. The service restricts you to 25,000 songs, although songs purchased from iTunes does not count against the total. The service will cost $24.99 a year, and is currently only available to customers in the U.S.
iTunes Match will compete with Amazon's Cloud Drive and Google's Music Beta, both of which launched earlier this year. Apple waited to nail down licensing agreements with the music industry that would allow them to match songs rather than physically upload each track. Cloud Drive and Music Beta each launched without a deal in place, so users must upload the tracks from their computer. This takes more time, although Google's Music Beta does this automatically to reduce the amount of user time that is necessary.
source:
Apple
via
Engadget