iTableous is a supersized multimedia station that looks like an iPhone 4
4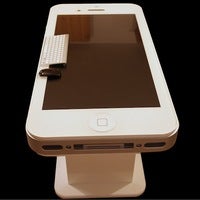 Is it a bird? Is it a plane? No, it is
iTableous
– the crazy-looking, gadget-packed table built to look like a jumbo-sized iPhone 4. Yes, you read that right. The giant resembles Apple's pride and joy and it does it with great accuracy, at least in terms of looks. Take a look on its insides, however, and you are going to find something more than an A4 chipset.
The "brain" of iTableous is a full-fledged PC that runs both Windows 7 and Mac OS X thanks to Hackint0sh. Oh, and that display you see – it is a 40-inch Toshiba LCD TV covered by a layer of high-gloss Plexiglas. If that is not crazy enough, there is also an audio system built into the contraption, and a PlayStation 3 console is hiding in there to satisfy your gaming needs.
Sadly, however, the iTableous will not be coming to an Apple store near you as it appears to have been built only for fun. Nevertheless, it is amazing what one can do with a bit of skill, ingenuity and dedication. Feel free to watch the videos below and check iTableous in action.
source:
Benjamin Bachmeier
, YouTube (
1
) (
2
) via
Daily iPhone Blog