iPhone to come in CDMA flavor soon?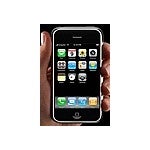 9to5Mac has some interesting information that, if true, could bring the iPhone 3G to the Verizon Wireless network. The tipster that reported to the Mac enthusiast website is reported to have close connections to Verizon. According to his intel, Verizon and Apple will announce a CDMA-based iPhone in 2009, and perhaps even as early as MacWorld 2009. While many are under the assumption that AT&T and Apple signed an exclusivity agreement during the launch of the iPhone on their network, confusion surrounds the actual end date, and no such document is available for the public.
Apple is also hiring for
various positions
that stipulate knowledge of CDMA and EVDO, lending further credence to the rumor. With existing partnerships with Vodafone (Verizon Wireless is jointly owned by Vodafone and Verizon Communications), the contract could be a bit easier to negotiate. In addition, Apple originally wanted to go with Verizon for the original iPhone, however moved to AT&T when negotiations stalled.
Something to take with a grain of salt, however there are legitimate claims to back up the rumors.
Source:
9to5Mac
via
BGR