How to get iPhone gestures on the Samsung Galaxy S10
14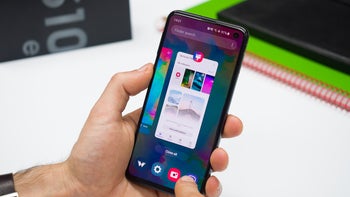 Gesture controls have been a big deal recently. Ever since manufacturers started shrinking bezels and expanding the screen real estate more and more, there's very little room for any hardware controls on a device. In the cases where you have a virtual navigation bar — removing it allows you to get more content on your brand-new big display and emphasizes just how far we've come in the screen-to-body ratio evolution.
But not all navigational gestures are made the same. Some feel natural and easy to use. Others are a bit cumbersome and annoying.
Take the default Samsung gestures, for example. When you choose to hide the navbar away, you are presented with three thin stripes at the very bottom of your screen. These represent your "recents", "home", and "back" buttons. To activate any of these functions, you need to swipe up from their respective stripe. This means that, whether you want to go back, go to homescreen, or into the recents cartwheel, your thumb always needs to go to the very bottom of the screen and perform the same upwards swipe. It's not super-intuitive as you always need to remind yourself which side of the screen to reach for, and not great for single-hand use, as there are a lot of shimmyin gymnastics involved to get your thumb in the right angle.
If only there was a way to make the gestures of the Galaxy S10 more like the ones on the iPhone, where swiping from the side of the screen is a back and the upwards swipes are reserved for home only — easy to remember, easy to use. Well, there is a way!
Yes, it involves downloading an app — an official Samsung app, which adds a plethora of gesture possibilities. Here's how to use it:
Download One Hand Operation +
You need to look for it in the Galaxy Store. You can
click this link
if you are on your Samsung device right now.
Set up edge gesture positions
One Hand Operation + will place two virtual "handle bars" on the left and right of your screen. Swiping inwards from any of them will activate a desired feature. Set them up to taste. We recommend making them transparent so that they don't take up any space on your screen, and making them fairly wide, so that they are easy to activate, but not so wide that you tap them by mistake.
Choose edge gestures
By tapping on the Right handle and Left handle options at the very top, you can choose which of them does what when you swipe on them. And they can read between diagonal and horizontal swipes as well!
You can set them up to taste, of course, but here's what we recommend. Set up the Left handle like this:
Now, set up the Right handle like this:
This will ensure a very iPhone-esque control scheme, where swiping from the left will always result in a "back" command. If you swipe and hold, you will get a nice, little, and clean "task switcher", which is a mini version of the "recent apps" cartwheel. Swiping in from the right is reserved for "go forward" in whatever browser you are using. This is a godsend for Chrome users, because the "forward" button is hidden in a sub-menu and it's always an annoyance when you need it.
Setting the "diagonal up" swipe to activate One handed mode just makes it that much easier to do, since the default gesture that Samsung uses (diagonal swipe from the very bottom) is sometimes very hard to hit right.
Put the cherry on top
Now that One Handed Operation + has been set up, you can go into Settings → Display → Navigation bar and choose "Full screen gestures". This will hide your navbar (as we talked before). We'd even go as to turn off "Gesture hints", so that these unsightly stripes will go away.
If you have any apps or games, where the new gestures are giving you trouble, head into One Hand Operation + → Advanced settings → App exceptions and add the troubled apps. From now on, when you open that specific app or game, One Hand Operation gestures will get disabled for the duration.
To recap
Now that we've set this up, here's how you can navigate your Galaxy S10.
Swiping from the bottom center takes you to the home screen.
Swiping from the left is "back"
Swiping from the left and holding for a sec is "task switch"
Swiping from the left in an upwards diagonal is "one hand mode"
Swiping from the right is "go forward" (in web browsers)
Still, if you swipe upwards from the bottom left or bottom right corner, you will get the "recents carousel" and "back" as you normally would. These still work well if you're using the phone with 2 hands or have it laying on a table.