iPhone case will open, count your beers, and call a cab later, kind of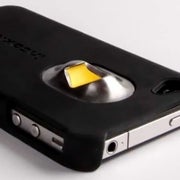 Add the Intoxicase protective iPhone case to the list of things you can open a beer bottle with. Made out of tough polycarbonate, it sports a full-fledged bottle opener on its back, all the while making sure your
iPhone 4
or
4S
is free of cracks and scratches.
But what is such a novel accessory without a matching iPhone application? The Intoxicase app can be used to keep track of how many bottles have been opened, and can post a social network status update, just to let the world know you are enjoying a cold one. In case you aren't fit to drive at the end of the evening, the app can search for taxi services available near your location.
The case comes in two varieties
– one with a standard, fixed opener, and the Intoxicase Plus, which sports a collapsible mechanism. $35 is how much the former costs, while the latter is priced at $45. Those who are interested can order one by following the source link below.