iPhone alarm clock bug rings in the New Year again for users with older iOS versions
3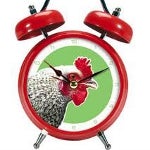 Another New Year's Eve passed, another
set of iPhone alarms didn't go off
in the morning. While Apple fixed this issue in the following iOS updates, apparently a number of users didn't bother to upgrade their mobile OS version, and got caught by surprise with their alarms silent, and their bosses angry.
The problem affects users with iOS 4.2.1 and below, who have set non-recurring alarms for today or yesterday. Apple actually issued an official statement regarding last year's issue, recommending that people just wait it out for January 3, when all will be well, which was pretty funny in itself for those unaffected: "
We're aware of an issue related to non repeating alarms set for January 1 or 2. Customers can set recurring alarms for those dates and all alarms will work properly beginning January 3.
"
Of course, the other recipe for alarm clock happiness is called iTunes, and the iOS update is just a cable connection and a few clicks away, save for iPhone 3G users, of course, which are stuck at iOS 4.2.1 until a hardware upgrade.