iPhone SE packaging pictured in the wild
29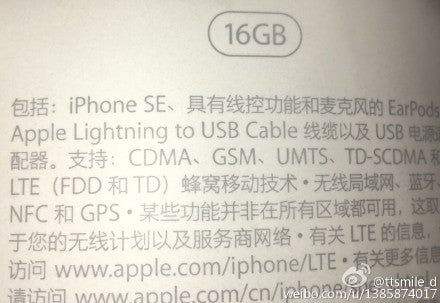 By now, we've heard so many rumors from so many different sources about a "mini" iPhone, that it's hard to imagine that it may not exist. So far, reports are saying it'll have a 4-inch display — just like the iPhone 5 and 5s used to have — a TouchID fingerprint scanner, an
Apple A9 chip
, an 8 MP camera, and probably just 1 GB of RAM. Its name was rumored to be iPhone 5SE (special edition, maybe?), but in later reports, the "5" was dropped, so we now just call the device "
iPhone SE
".
A real-life photo of what is allegedly the iPhone SE's box has popped up on Chinese social media website Weibo, giving us a few tidbits about the upcoming compact handset. Firstly, the name is reaffirmed, as can be seen on the top-left. Reading through the rest of the text, we see that the device will be packed with Apple EarPods headphones, unlike how iPads come sans this accessory (ahem, Apple) and we can see that it will also have an NFC chip inside it. This means that the handset will probably support Apple Pay – Cupertino's mobile payment system. Since some believe that the iPhone SE will be cheaper than its bigger siblings, corner-cutting is assumed, but we're pretty sure it's against Apple's interest to release a smartphone that doesn't support a major feature in the company's ecosystem.
Of course, it could turn out that the box is from a knock-off smartphone, or just a prank, so don't take this leak as a 100% truth just yet. Apple is about to hold an event on the
21st of March
and we expect to see the mini smartphone unveiled there, alongside an
iPad Air 3
(or
iPad Pro Mini
, as some call it), so hold tight, the wait is almost over!
Source:
Weibo
via
iMore