Deal: iPhone 8 and 8 Plus are $100 off at Walmart (with Verizon, AT&T, or Sprint installment plans)
5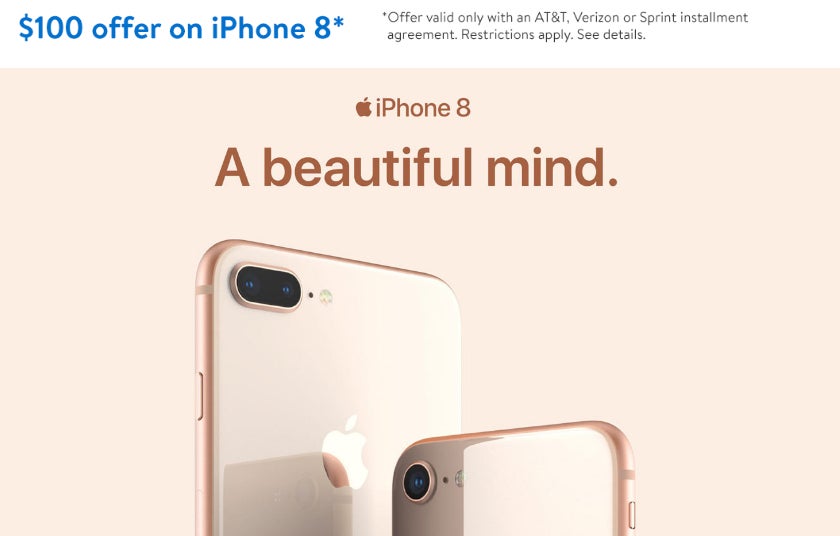 Many Apple fans may be waiting for the futuristic iPhone X, but plentyof customers are interested in the iPhone 8 or iPhone 8 Plus, both of which areavailable to buy since last week. If you intend to purchase any of the twoiPhone 8 models on Verizon, AT&T, or Sprint, Walmart has a deal for you.
When you're buying an iPhone 8 or iPhone 8 Plus with anAT&T, Verizon, or Sprint monthly installment agreement, Walmart takes $100 off thephones' final prices. However, this deal is available only in "selectWalmart locations", so you can't take advantage of it online. The bestthing to do is visit or call Walmart stores near you and see if the offer isavailable in your region.
In case you don't need an iPhone 8 or 8 Plus, but an older(and cheaper) Apple handset, Walmart's $100 off deal also includes the iPhone7, iPhone 7 Plus, iPhone 6s, iPhone 6s Plus, and iPhone SE. Additional details can be found at the source link below.
source: Walmart