iPhone 7 and 7 Plus: should you upgrade?
19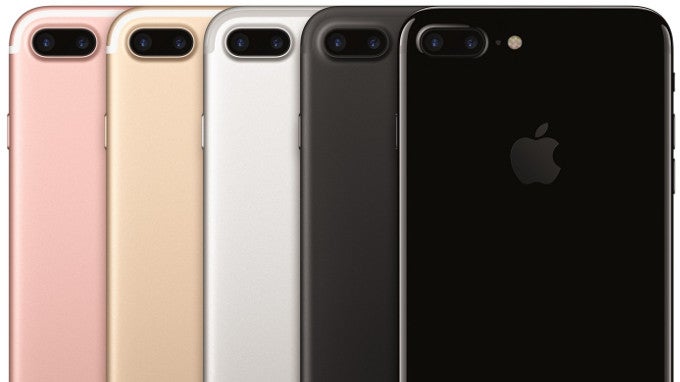 So, Apple has finally outed the new
iPhone 7
and
iPhone 7 Plus
and, for the most part, the rumor mill was pretty much spot on. Of course, there were a couple of surprises, like the doubled storage across all tiers, and a few expected disappointments, like the lack of a headphone jack. So, now that we know most there is to know about Apple's new flagships, one can make an informed decision whether they want to upgrade their old iPhone or not. Let's check out everything you need to consider!
Design
Whether you are coming from an
iPhone 6
,
iPhone 6s
, or their Plus brethren, you won't notice much of a difference in design and feel. The form-factor is the same, so your hand will be instantly at home. The antenna strips have been moved to the edge of the phone and look less like "panties", so if that has been a pet peeve of yours, you may be happy to switch to an iPhone 7.
On the other hand, the camera bump has gotten a bit more unsightly, especially on the Plus module, where it now houses two sensors. We'll talk more about the cameras in a bit, and there's definitely a positive tradeoff here, but from a design standpoint — the new look may require a bit of getting used to.
The iPhone 7 and 7 Plus are also water-resistant, which is a first for Apple's handset line. With a rating of IP 67, splashes, spills, and even the occasional submersion in the kitchen sink should not cause the device to go haywire. So, if you like to take your iPhone with you in the shower or by the pool — upgrading to a 7 might be a smart investment.
There are also the two new colors — if you have been craving a stealthy black iPhone, or even a glossy one, now, for the first time in years, you can have one.
So, in the design department, there's no direct answer. If you were hoping for an exciting new design that would entice you to switch — sorry, the iPhone still looks more or less how it used to look 2 years ago. On the other hand, if you were happy with the old design, and want to freshen things up a bit with more discreet antenna bands, a new color, and possibly a glossy finish — the iPhone 7 / Plus will do just that.
Functionality
Yes, the new iPhone 7 and 7 Plus lack a headphone jack. This is a negative point, which has been beaten to a pulp ever since the first rumors hinted at it, and doubly so since the phones were revealed. In practical terms, this means that if you want to use your favorite pair of headphones with the iPhone 7, or your set of wired external speakers, you'd have to use the included Lightning-to-headphone adapter. Of course, the new set of EarPods that come out of the box will now have a Lightning jack, and there are some 3rd party manufacturers out there that are making headphones with the Apple proprietary connector. But investing in a pair of those is a questionable decision since they will only be compatible with your iOS devices. All in all, the headphone jack ordeal is a mess, and even though Apple tried to downplay it by calling it an ancient piece of tech, included an audio dongle in the package, and even sells it for cheap if you happen to lose yours, audiophiles who don't like to use the stock EarPods will not be happy.
On a more positive note, the storage options have now been doubled across every tier. The lowest you can go right now is 32 GB, which is a pretty good amount of storage for most users. $100 more will get you a 128 GB unit, which is quite respectable, and the highest tier, costing $200 more than the base version, gets you an insane 256 GB of storage. But the thing is, the iPhone 6s and
6s Plus
, which Apple will continue to sell as a "cheaper variant" over the next year, will now come in 32 GB and 128 GB storage variants as well. In other words, $650 can either get you a 32 GB iPhone 7 or a 128 GB iPhone 6s. So, if music on your phone is a big deal to you, getting a brand-new iPhone 6s now will get you a ton of more storage and still have a headphone jack.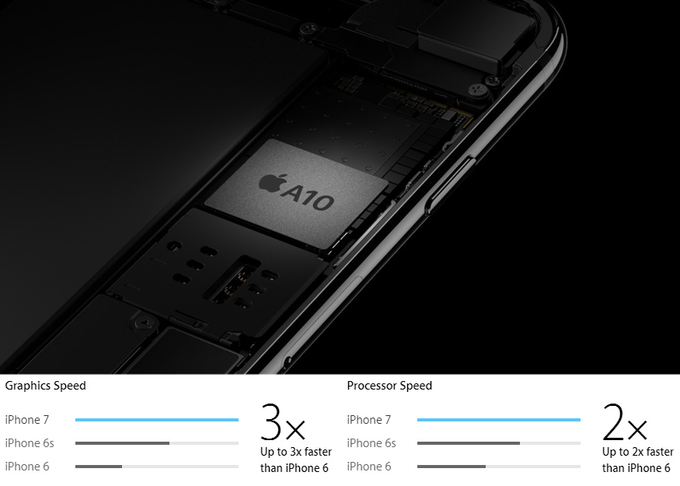 Of course, the newest iPhone has the newest processor, which is faster than the previous iteration, and is the best piece of silicone to be installed in an Apple handset. Let's be fair, though — Apple's iOS is a pretty well-optimized operating system, coded to work in perfect synchronization with the hardware that the company uses. It's a fair bet that iPhone 6 and iPhone 6s units, as well as their Plus siblings, will continue to be snappy, responsive, and a general pleasure to use for at least two more years.
We've also got stereo speakers this time around, which offer a nice boost in sound. The upgrade in sound quality is not mind-blowing, but not because it's bad — it's just that iPhone speakers were already pretty good-sounding before, too.
To sum up the part about functionality — if you are an iPhone 6 owner, you have a couple of great choices to upgrade to right now. Either go for the new iPhone 6s / 6s Plus, which now offer pretty generous storage options at prices that can be viewed as a "bargain" by Apple standards, or, if you don't care that much about headphones, upgrade to the newest and fastest iPhone 7. iPhone 6s owners don't have that much incentive to switch to the 7, but maybe you should toy with the idea of refreshing your old 6s with one of the new 6s units for their storage.
Camera
Apple has, again, made some pretty notable upgrades to both cameras. While in past years, the only iPhones that would have optical image stabilization (OIS) on their camera sensors were the Plus variants, this time around, even the regular, small iPhone 7 has an OIS module. This is, of course, great, and will improve photography in a noticeable way. OIS does a lot to eliminate blurs when the user's hands are a bit shaky, and makes night shots better, when blurriness is usually hard to avoid, due to the fact that the shutter needs to stay open for longer.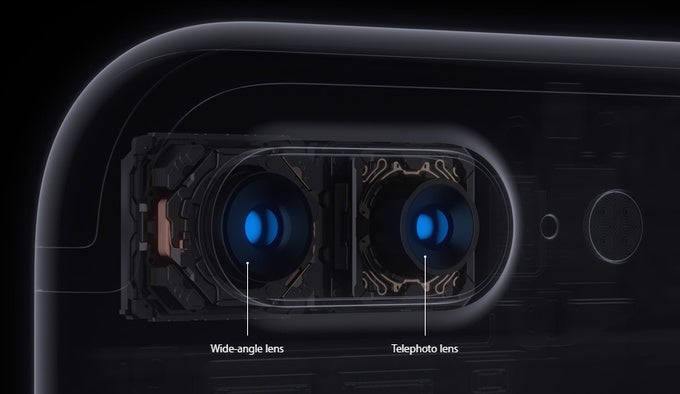 The iPhone 7 Plus has an even bigger update — it now features two camera sensors with different lenses. One is the regular, 12 MP camera with OIS that is found on the smaller iPhone. The second features a special telephoto lens and an F2.8 aperture. What this means is that it's capable of taking some pretty cool bokeh shots. Sure, Apple will bring the portrait bokeh style to other iPhones with a software update, but being able to create the effect out of the actual camera is a whole different type of game. There's also the added benefit of a slightly increased optical zoom.
The front-facing camera has also been upgraded to a 7 MP one, up from the 5 megapixels on the iPhone 6s' sensor. No doubt about it, selfie fans should be happy with this update.
So, the short answer here is: if you take your phone photography seriously, you should most definitely consider upgrading to the iPhone 7 Plus. Even if you swear by the compact form factor of the 4.7-inch model, the iPhone 7 will still get a better camera than the one on the iPhone 6s — a large F1.8 lens aperture, a larger sensor that collects more light, and OIS assistance for less shakiness. iPhone 6 users that consider themselves shutterbugs will feel a massive improvement.
Conclusion
As you can see, whether you should upgrade to an iPhone 7 is not exactly a "yes / no" question. The new design is not so new, and we are pretty sure that, while the Black and Jet Black finishes look undeniably cool, two new colors not really going to cause a lot of people to upgrade.
To get the proper answer, you need to take into account what you value most in your handset. Is it the jack, which you use to connect the phone to your favorite headphones, external speakers, and car audio? If so — how willing are you to always carry an extra dongle with you just so you can link your phone to your audio peripherals?
Or is it smartphone photography that you value most? If that's the case, then upgrading to an iPhone 7 or iPhone 7 Plus is a no-brainer. The same goes if you just want to have the fastest Apple-made processor in your pocket, even if it's just for the sake of having it.
If you own an iPhone 6, however, you've got plenty of upgrade options this year, and almost no excuse not to take one of them. Moving up a step to an iPhone 6s or 6s Plus (as currently sold by Apple, not a refurbished unit, or an old stock at some retailer) will get you more storage, a better camera, and the pressure-sensitive 3D Touch screen. Moving up to an iPhone 7 or 7 Plus will guarantee an even better camera experience, and add a significant chunk of battery life to what you are used to.
iPhone 6s
iPhone 6s Plus
iPhone 7
iPhone 7 Plus
Storage
Price
Storage
Price
Storage
Price
Storage
Price
32 GB
$549
32 GB
$649
32 GB
$649
32 GB
$769
128 GB
$649
128 GB
$749
128 GB
$749
128 GB
$869
-
-
-
-
256 GB
$849
256 GB
$969