iPhone 6s mania: one eager Apple fan has already set up tent in front of the Apple Store in Sydney
77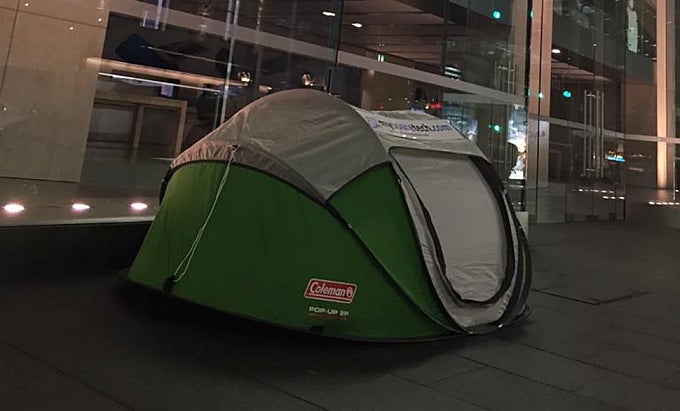 It has become some sort of tradition among Apple fans to queue up in front of Apple stores before the launch of new iPhones. Apparently, being one of the first to get new iPhone models is an achievement that justifies lining up in front of stores days ahead of the launch date. Over the past few years, this has been the subject of many jokes centered on Apple fans, but it looks like, despite the mockery, Apple Store lines are not going away this year.
As nearly everyone probably knows by now, Apple is widely expected to unveil the
iPhone 6s
and the
iPhone 6s Plus
later today. Historically, Apple makes its new iPhones available for purchase about 10 days following the official unveiling.
Despite the fact that the next-gen iPhones will probably launch the weekend after this one, it looks like one eager Apple fan has already set up his tent in front of the Apple Store in Sydney.
If the fan is honest in his intention of staying in a tent until Apple's new iPhones launch, he'll probably be one of the first in the world to get his hands on an iPhone 6s due to the difference in time zones. However, we can't shake the feeling that it's way too early to line up in front of the Apple Store, especially since the iPhone 6s series isn't even official yet.
What do you guys think? Would you be willing to wait for ten days in a tent just so you can be one of the first people in the world to purchase the iPhone 6s?