iPhone 6 users now complaining about a misaligned selfie camera
31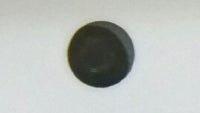 Judging by what appear to be hundreds of separate complaints on online boards such as
Reddit
, in time, some iPhone 6 units develop a very specific, (and a bit weird) problem – the selfie camera at the front becomes misaligned with its housing. As a result, a gray, crescent-like shape appears at the edge.
"Say what?" you say? Yeah, we needed a few pictures, too, before we could understand what exactly the problem is. Thankfully, plenty of visual evidence was provided on the internet, and dozens of people confirmed that this exact issue is present with their respective iPhone 6 unit (our resident iPhone 6 is fine). iPhone 6 Plus units seem to be unaffected.
According to one redditor, who claims to be an Apple Store employee, Cupertino hasn't yet identified the cause, but will either replace your display panel (includes the camera) or swap your device altogether. That is, of course, if you consider this an actual problem, seeing as, at least at this point, it appears to be a cosmetic issue only – photos snapped with the 1.2-megapixel cam are just fine.
Is your iPhone 6 affected by this?