iPhone 6 selling six times better than 6 Plus, but Plus is more engaging
32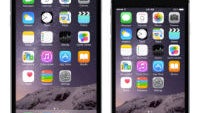 Apple's
Q4 results
have been announced, and the numbers are looking great. They are even more impressive when you consider that those results only include about two weeks of sales for the new iPhone 6 and 6 Plus. New devices always cause a spike in sales for Apple, and these iPhones seem to be continuing the trend. And, new data is showing that users far prefer the iPhone 6 compared to the 6 Plus.
The data comes from Localytics, which tracks 28,000 apps on various mobile platforms and the web, and 40 million iPhones for this study. Through that information, the firm has found that the iPhone 6 makes up about 6% of the iPhone ecosystem, while the iPhone 6 Plus only has 1% of the device market share. The iPhone 5s and 5c are still the kings of the iPhone world at 27% and 25% respectively. An odd point of interest is that the "other" category makes up 14% of the iPhone world, and that category is made of all iPhones from iPhone 4 and earlier. That seems like quite a lot of old iOS devices still in the wild. Of course, 6% market share for the iPhone 6 is actually quite good, because at the same time last year, the iPhone 5s had only managed to take 3% of the iPhone market.
Localytics also tracked how long users were in the apps they launched on each device, and found that although the iPhone 6 is the more popular device, the iPhone 6 Plus is seeing slightly more user engagement, both in terms of apps launched and average time spent in each app. The differences may not seem that big on the chart, but it figures out to be 13% more time in apps on the 6 Plus, which is a notable amount. Though, an amount that should be expected, because traditional assumptions are that larger devices have longer engagement.
Recommended Stories