iPhone 6 schematics leak out, putting the Apple rumor season in full gear
27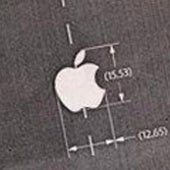 Images of the schematic design of the alleged upcoming
iPhone 6
have leaked out, and they depict both a phablet-sized iPhone, as well as a smaller, 4.7" iPhone. Problem is, however, that there are two images from two different sources, and the two paint starkly different pictures of Apple's upcoming iPhones.
First, Japanese publication Mac Otakara (the name of the blog, by the way, translates as 'Mac Treasure') suggested an upcoming 4.7" and 5.7" models of a plastic iPhone (allegedly, iPhone 6c). Then, Japanese magazine MacFan obtained a document with very interesting drawings of the alleged devices. The images show a flat phone with nearly bezel-less screen and buttons in the form of a rectangle (Apple currently uses round volume buttons and a square lock key).
What's most interesting, though, are that actual dimensions are also listed. These drawings list the 4.7" iPhone model to be 137mm tall, 66mm wide (against 58.6mm for the iPhone 5s), and 7.0 mm thick (against 7.6mm on the iPhone 5s). The larger model is said to be 157mm tall, 77mm wide and only 6.7 mm thick.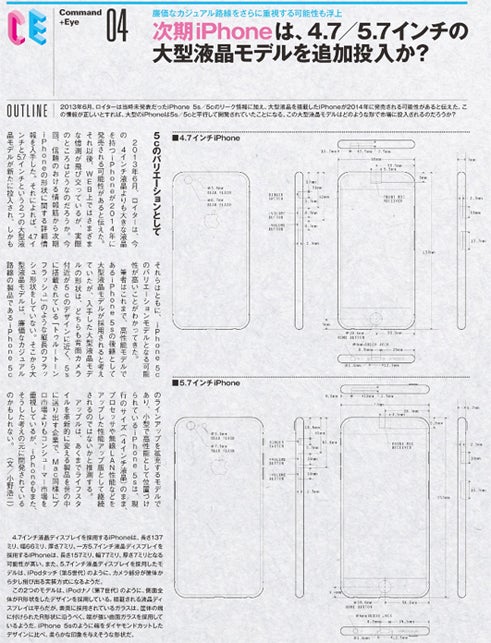 Next, though, French publication NoWhereElse obtained an image from China, and that second image plain denies all the specifications listed in the drawings from Japan.
The new schematics, that this time come from China, show guidelines for the correct positioning of the Apple logo on the back of the alleged device, but along with those minute details, they reveal different dimensions for an alleged iPhone. The numbers there are really quite shocking: the one handset listed features a mind-boggling 85mm-wide (3.346") body. To put this number in context, we ought to say that even the 5.7" Samsung Galaxy Note 3 is narrower, at 79.2mm. Moreover, the 5.9" HTC One max, one of the larger phablets out there, is also narrower, as it measures 82.5mm.
In fact, the depicted width actually matches that of the unwieldy LG Vu II, a device with a weird 4:3 aspect ratio. The design schematics show that the Apple device would actually be a bit taller, but the surprising similarity in width is there.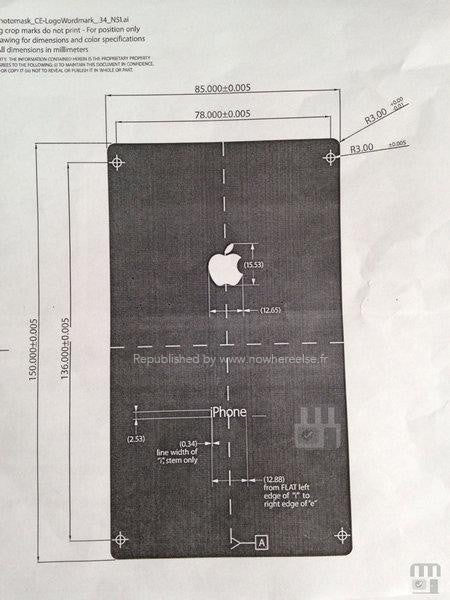 All in all, we have two different leads in the iPhone 6 case, with the second showing a very radical overhaul in terms of size, and we strongly doubt that it would turn out true. We'd put our money on the first leak, but with a clear understanding that those images might be a false lead as well. The only thing that seems certain at the moment is that there's a lot of talk about the iPhone 6 without any actual clarity about it. What should you do in this situation? It's best to keep that healthy pound of salt handy with all these rumors.
source:
NoWhereElse
(translated)