iPhone 6 and 6 Plus rank below the Samsung Galaxy Note 4 in US customer satisfaction survey
90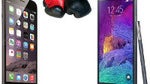 According to a new survey conducted by the American Consumer Satisfaction Index (ACSI) on 70,000 US customers, the
Samsung Galaxy Note 4
is the most satisfying smartphone currently available in the US market.
On a scale from 0 to 100, US customers gave the Samsung Galaxy Note 4 an average score of 86 points in terms of overall satisfaction. The 5.7-inch handset is followed by the
Galaxy Note 3
, the
Apple iPhone 6
, the
iPhone 6 Plus
, and the
Samsung Galaxy S5
, all tied for the second place with 82 points.
Interestingly, the results of this survey shows that US customers seem to be very satisfied with their phablets, as three out of the top five smartphones in these rankings come with a display that measures at least 5.5-inches across the diagonal.
In the manufacturer race, Apple and Samsung are tied for the first place in the heart of their consumers, both with a score of 80 points. They are followed by Motorola with 79 points, BlackBerry with 78, and HTC with 77.
Apparently, the thing that US consumers like the most about their phones is the ease of sending and receiving text messages (85 points), followed closely by the design and size of their phones and the ease of making and receiving voice calls. Unsurprisingly, the study also shows that customers are not satisfied with the battery life of their smartphones, this characteristic earning just 74 points.