iPhone 5c-like device with Touch ID spotted on Apple's site, could this be the iPhone 6c?
26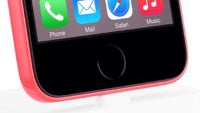 With about 4 months left until Apple's regular iPhone refresh is due, rumors concerning the next-gen devices are abounding. But while we feel fairly confident that the Cupertino-based company will refresh their 4.7-inch iPhone 6 and 5.5-inch iPhone 6 Plus, word on the street is that there's another phone in the pipeline.
Those of you who have been keeping an eye out on Apple will know that we're, of course, referring to the rumored iPhone 6c. According to unconfirmed insiders, Apple is considering a successor to the plasticky iPhone 5c, whose biggest asset would be... its relatively small, 4-inch screen. Apparently Apple is concerned about the people that actually agreed with its
earlier stance on the impracticality of anything larger than that
. And now, we might just have one of the first more interesting leaks, courtesy of Apple itself.
Just recently, a new iPhone Lightning Dock was listed on the online Apple Store. It sells for $39, but that's not the curious part — instead, folks have started noticing that the last image in the gallery is of what
looks
like an iPhone 5c, but with a Touch ID Home button. In case you don't know, the iPhone 5c, though released alongside the iPhone 5s, does't actually have a fingerprint scanner on board, and its Home button has the older model with the square marking in the middle.
Thanks for the tip, Canoopsy!