iPhone 5 case protects against extreme temperatures, looks good doing it
9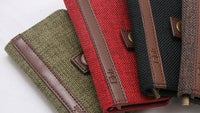 While smartphone cases come in all shapes and sizes, pretty much all of them are meant to
protect our handsets from dents, drops, and scratches
. The Salt cases for iPhone 5, however, are a bit different as they provide resistance against extreme temperatures as well. Why is that important? Well, a smartphone may shut itself down and/or get seriously damaged if exposed to temperatures beyond a certain threshold. The
iPhone 5
, for example, works best from 32° to 95° F, but may malfunction if it gets way too cold or too hot. Moreover, excessive temperatures may seriously shorten any battery's life span.
Naturally, Salt cases work by blocking heat, but the way they do that is a bit more complex than you would expect. In fact, they use the same material that NASA protects its equipment with against heat emitted by rocket engines and the coldness of outer space. Thanks to that and the company's Saltbloc
"thermal layering technology"
, Salt cases successfully tackle
"the mechanics of heat transfer: radiation, convection and conduction."
They look pretty stylish as well, we must add. Red, green, tan, brown and black are the colors Salt cases will be available in.
But before Salt cases for the iPhone 5 hit the market, their makers will need your financial support. That's where crowdfunding comes into play – people interested in buying a Salt case may back up the project via Kickstarter. If the $27 000 is raised before the September 23 deadline, then early backers will get their Salt cases before the end of next month. For more details, check out the project's page on Kickstarter.