iPhone 4's USB port catches on fire and subsequently melts cable
This article contains unofficial information.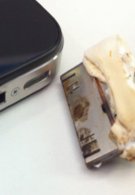 exploding iPhones
, but now there are images that show the aftermath of an iPhone 4 catching on fire and subsequently burning the owner's hand in the process. BGR received some photos that show an iPhone 4's USB port and cable singed after a fire apparently occurred while it was hooked up to a computer. Their AT&T connection did mention that the whole thing happened due to a defective USB port and not simply by some sort of user error. The heat generated was hot enough to burn the hand of the owner as he attempted to grasp it – and as you can tell from the photo, the cord easily melted while a slight burn mark can be found on the phone's USB port. Although this is so far an isolated event, we'll have to wait and see what the final verdict is when Apple looks into it.
Apple iPhone 4 Specifications
|
Review
source:
BGR