iPhone 3GS can take professional grade shots? You bet!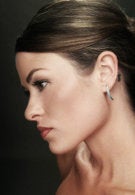 Most users will probably laugh, should you tell them that you can take professional grade photos with the
iPhone 3GS
's basic 3-megapixel autofocus shooter, which even lacks a flash. But do you know what's actually funnier? That they would be wrong.
Lee Morris, professional photographer, from FStoppers has taken on the task of using his Apple iPhone 3GS for a full fashion photo shoot, in order to prove that you don't need to have the latest and greatest camera with a high megapixel count to be able to take beautiful photographs. And we've got to tell you, as we examined the images, we certainly came to believe this guy. Well of course, they were made possible by the participation of a hairdresser, make-up artist, a professional model, studio lighting and retoucher, but you know, a cell phone cam is still a cell phone cam, and knowing that it's capable of doing such great things is really inspiring.
You can see the images of the iPhone 3GS below, as well as a behind-the-scenes video to let you know how the magic is done, plus a weird video with trains taken and edited solely on the
iPhone 4
, which in turn comes to prove that it's more than capable of replacing your dedicated HD camcorder.
So, what are your thoughts on the matter? Have you ever used your cell phone's cam to take incredible images? Feel free to share with us in the comments!
source:
FStoppers
,
more
If you have some interesting info that you'd like to share with us, feel free to
Tip Us!