iPhone 3G S costs $178.96 to make?
This article contains unofficial information.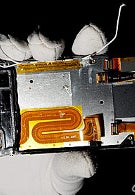 Apple spends close to $179 to manufacture each 16GB iPhone 3G S, according to iSuppli. Despite having a faster processor and some other changes that make the new handset faster and more feature rich, that is only a few bucks more than the $174.33 it cost to build the 8GB Apple 3G when it was launched last July. One thing that keeps the cost down on the new model is that certain functions that used to be on multiple chips are now found on one chip. For example, the iPhone 3G needed two different components-one from Marvell and one from Cambridge-for WLAN and Bluetooth; the new iPhone offers both on one Broadcom Integrated Circuit at a cost of $5.95. Another IC on the 3G S that costs $1.30 and is used for power management, replaces multiple semiconductors used on the previous iPhone version. The most expensive parts all came from Toshiba with the most expensive being a 16GB Multi-level cell NAND Flash which sost $24. As a number for comparison, recent teardowns of the Palm Pre by iSuppli came out to a cost of about $170 for Palm to make that handset.
source:
eWeek