iPad prototype with dual dock connectors surfaces on eBay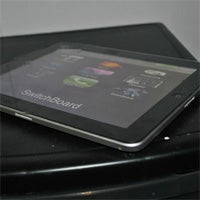 Once upon a time there was a rumor that Apple was planning on releasing the iPad with dual dock connectors. Back in 2010, we even posted
a photo of a casing that was purported to be for the dual dock edition
of the iPad. It looks like there was some truth to that rumor after all. Apparently Apple did make a prototype of this idea but it was scraped after opting to go with the simplicity of a single dock connector. Now, one of those prototypes has made its way to eBay.
The auction, which ends in a few minutes, started at $4,800 and is now currently selling for $10,000. The seller says that Apple disabled the device, but he was able to restore many of the features. Other than the two functioning dock connectors, this is a 16GB original iPad that is running Apple's testing software, SwitchBoard.
While it is definitely an interesting piece, we could probably think of a few better ways to burn through 10 grand. We're only a few minutes away from someone getting a very expensive collectors item. It will be interesting to see how high the bidding goes.