iPad mini survives drop test, Nexus 7 isn't so lucky
64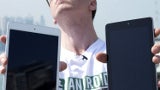 The iPad mini and Nexus 7 are two of the hottest small tablets right now. While we can have endless arguments as to which one is better and why, however, the dudes from Android Authority have decided to... put an end to all arguments by performing the deathly test that all gadgets fear most - the drop test.
We can tell you guys, this video, produced by the dudes from Android Authority, is Painful, and definitely not for the faint of heart. Each of these two wonderful tablets are being purposefully dropped three times, each time at a different angle. Both devices survive the first drop, although the Nexus 7 leaves with a cracked screen. The second drop, however, causes even more damage to the casing of the Nexus 7, rendering it useless. Meanwhile, the iPad mini's screen gets cracked too, but it manages to remain functional. The third drop leaves the two tablets with even more cracks and dents, even pieces ready to fall off, but the iPad mini proved to be unwilling of losing its functionality.
OK, now that you know what to expect, you can go ahead and watch this horrific video!