iPad 4 benchmarks are out, A6X chip runs at 1.4GHz, 1GB of RAM inside
42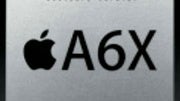 When Apple officially unveiled the fourth generation iPad, it boldly stated that the new CPU that has been thrown in has twice the processing power over the previous model. Well, it looks like the claim was spot on, as the tablet's benchmark scores demonstrate. The
iPad 4
with its A6X SoC managed to score 1757 points on Geekbench, which is a
111% increase in raw computations performance
over the A5X running inside the third-gen iPad. In comparison, the iPhone 5, sporting an A6 chip scored 1571 points, while the iPad 2 with its A5 SoC got 780 points.
The new A6X chip that Apple introduced with the fourth-gen iPad is of the dual-core kind and is clocked at 1.4GHz, as tests show. It also features quad-core graphics in order to handle the Retina display's high resolution. That dual-core A6 chip we mentioned above is clocked slightly lower at 1.3GHz, hence the small difference in benchmark scores between it and the A6X. Apple has outfitted it with "only" three graphics cores. As far as memory is concerned, the tests confirm that the iPad 4 has 1GB of RAM, just as much as the
iPad 3
and the
iPhone 5
have. Lots more technical information and pretty graphs can be found at the source link below!
source:
Primate Labs
via
Mac Rumors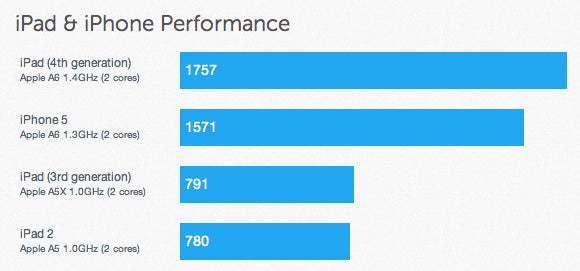 iPad 4 benchmarks vs the iPad 3, iPad 2, and the iPhone 5