iPad 3 to get 1 gigabyte of RAM, more evidence surfaces
13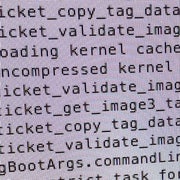 One of the
improvements that we are very likely to see in the iPad 3
, even though nobody seems to care that much, is that the tablet will have
1GB of RAM
. Why would it need a memory boost, you ask? Well, that extra brain power should really come in handy as the tablet is expected to come with a high resolution display. High resolution display means high resolution graphics, which take up a lot of memory when loaded. Of course, it would also allow for heavier apps and better games to be developed for the iPad. In comparison, the iPad 2 has "only" 512MB of RAM, while the first-gen iPad comes with 256 of them.
"vm_page_bootstrap: 244276 free pages..."
. And since computer memory is organized in "pages" of 4,096 bytes each, by multiplying the two numbers together he got the total amount of memory that the iPad 3 has at its disposal – 1,000,554,496 bytes, or about 1GB.
Is Chronic correct? We will know for sure in a few hours. The Apple event, at which the next iPad will be announced, kicks off at 10:00AM Pacific time, or 1:00 eastern time, and we will be reporting all about it.