iPad 3 photo seemingly confirms Retina Display
5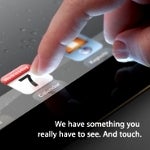 Boy, those iPad 3 rumors just keep on coming! The image that you see below, folks, is said to be of an iPad 3's screen, and judging by the date displayed on the Calendar app's icon, it has been snapped yesterday. Do you notice how clear and crisp the text and graphics look? We see it too, meaning that if the spy shot happens to be authentic, then the iPad 3 (or iPad HD, whatever) will indeed have a high resolution screen, possibly referred to as a Retina Display. Oh, and a physical home button appears to be missing, meaning that the rumors about it being replaced by a capacitive one might be on the right track.
Apple event press invitation
. Of course, it might as well be a well-crafted forgery, but even if it is, a high resolution display is among the improvements that we are most likely to see in the new iPad model anyway.
If you would like to inspect the image for yourself, feel free to do so, and if you think that we have missed something, feel free to let us know by dropping a comment below. The Apple event, during which the next iPad will be announced kicks off in only a few hours, so stay tuned for our coverage!
UPDATE:
It looks like this one has been debunked. It has been brought to our attention that the icons do not have a reflection as they do in iOS.