iPad 2 survives being dropped from 60 feet thanks to G-Form's Extreme Portfolio case
9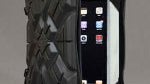 There's no arguing about it, but everyone loves a good video that features premium priced devices being dropped from lengthy heights onto the never forgiving ground. And rightfully so, that's what we're seeing with this one featuring an
iPad 2
being placed into two different cases and dropped onto the hard pavement from 60 feet above.
Showcasing the durability and ruggedness of their offering versus the competition,
G-Form's $79.95 Extreme Portfolio case
manages to keep an iPad 2 intact, and in one piece, during its decent from 60 feet above to the ground below. By comparison, G-Form demonstrated what happens to the iPad 2 when it's placed into a competitor's hard shell case – and let's be honest, 60 feet isn't something to mess with. On the other hand, G-Form's Extreme case takes a slight tumble into the air as it smacks squarely onto the pavement. But unlike its competitor's case, the G-Form Extreme case absorbs most of the shock and keeps the iPad 2 in pristine running condition.
Indeed, it's uniformly great for promotions and whatnot, but some consumers will appreciate the fact that the case will be more that capable in withstanding the everyday and real-world scenarios. Still, the video is pretty rocking considering it shows what happens when you drop things from great heights. Check it out!
source:
CNET
Recommended Stories