iPad 2 production expected to shrink, but the March 2nd announcement stands
8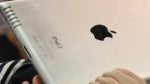 Rumors have been flying about potential delays for the next version of Apple's enormously successful iPad. There was concern that supply-chain issues would push its release back to June, but
The Wall Street Journal
is confident that we can still expect a formal announcement on March 2nd, and an April release.
There were
concerns
that the limited supply of touch-panels would delay the announcement, but Apple has LG, Samsung, and Chimei Innolux displays on hand to fill the gap. The confidence in their March 2nd announcement comes from the fact that other suppliers haven't received any notification of a delay.
Now, Apple's parts suppliers are suggesting that the iPad 2 will continue on schedule, but with a lower initial volume than anticipated. Their estimate is that rather than 400,000 to 600,000 units in the first quarter, only 300,000 to 400,000 will be produced. Maybe you should go ahead and line up at your retailer right now!
Apple may be doomed to repeat past supply shortages, as with the original iPhone and the first iPad. They have already begun phasing out production of the first
iPad
, so a delay on the iPad 2 could prove a disastrous advantage for Android competitors.
source:
Digitimes
Recommended Stories