iOS vs. Android: Skipping Stone Edition [video]
25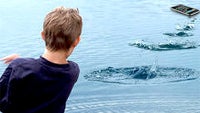 In the endless debate of phone operating systems, there is at least one comparison we haven't seen performed – which one makes a better skipping stone? While speed, reliability, form factor, and apps are all very important attributes; we often overlook the importance of a phones ability to bounce off of the surface when careened across a body of water.
In the video below, a Chinese man attempts to settle this argument once and for all by skipping an iPhone and a HTC Desire HD across a lake. Without further ado, 'iOS vs. Android: Skipping Stone Edition', or 'How to ruin expensive things for absolutely no reason whatsoever.'
Some are saying that the devices may have been swapped out with non-functional demos right before the toss, but even if they weren't, could you honestly say it's the stupidest thing you ever saw someone do on YouTube?
source:
Gizmodo