iOS dominates mobile platforms for web browsing in 2011
26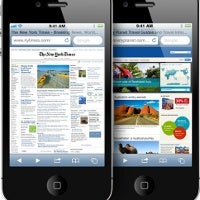 iOS remained the top platform
for users to access the web in 2011. Apple closed the year with 52.1% share of the devices accessing the Internet, while Android trailed way behind with only 16.1% according to December data from Net Applications. Actually, Android wasn't even the second - Google's mobile OS ranked third after Java ME which had 21.3%.
Apple's share has been going back and forth since the start of the year when it held 46.6%, to reach a peak in October with 61.5% and decline in the last two months of 2011.
Nokia's Symbian
came fourth with 5.8%. The platform has been continuously losing share, starting from 8.9% in the beginning of the year and dropping to as low as 3.5%, rebounding slightly in the final months of the year.
And when looking into particular devices and their popularity, the iPhone was unsurprisingly the leader, followed by Apple's iPad.