iOS 8 concept brings "Blocks" (aka widgets) to Apple devices
53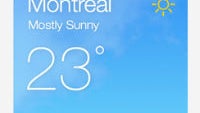 This isn't the first time that a designer has tried to come up with an Appley way to add widget-like functionality to iOS, and (assuming Apple hasn't actually added widgets in iOS 8) it likely won't be the last time either. But, when it comes to concepts, we always prefer when a designer really puts quality thought into how a company would approach an issue, rather than just building an unrealistic concept based on desire. Jay Machalani has done exactly that with his "Blocks" concept.
The idea is simple: Android has widgets, Windows Phone has live tiles, so what would Apple's solution be? Machalani has put a huge amount of thought into it (he wrote almost 5000 words just to set up the issue before introducing his idea), and it is relatively simple (as would be the Apple way). The idea is actually quite a bit like the
iOS widget concept
that we saw from Jan-Michael Cart back in 2011 (Cart was actually hired by Apple after he released his concept). Blocks are basically a hybrid of live tiles and widgets, where you would be able to pinch-and-zoom on any app icon to display more info, or leave the larger Block active to allow for live updating of info or easy access to media controls.
Machalani goes into very specific detail about the pixel size of the Blocks, specifying the organization of each block and where the interactive points would be, but that's more stuff for designers. You all probably just want pictures and a video, right?