iOS 7.0.3 lets you disable the 'icon fly-in' animation, makes Touch ID unlocking faster
9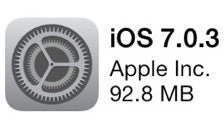 Another swift
iOS 7 update is here
, and it removes a whole bunch of nasty bugs and issues. Aside from the major stuff like the accelerometer calibration issue, however, iOS 7.0.3 also adds some hidden, yet useful tweaks to the platform.
One such improvement has to do with the 'Reduce motion' accessibility feature in iOS 7. Prior to the 7.0.3 update, what it did was to
disable the parallax effect
, which made some users feel slightly nauseous while using their mobile devices. Now, it looks like there are a few other 'motions' added to the 'Reduce motion' switch, and this includes the 'icon fly-in' intro animation, as well as the zoom effects when opening/closing folders, or running/exiting applications. Removing these animations makes the operation with iOS 7-running iPhones and iPads feel considerably faster.
As a side effect of this new tweak, those who are using the Touch ID fingerprint sensor to unlock their iPhone 5s smartphones will find that with 'Reduce motion' enabled, the reaction time for Touch ID unlocking is significantly shorter, making the iPhone's new security feature even more convenient.
If your iDevice hasn't notified you about the update yet, you can execute the installation manually by going to Settings -> General -> Software Update.
Here's the full iOS 7.0.3 changelog:
Adds iCloud Keychain to keep track of your account names, passwords, and credit card numbers across all your approved devices

Adds Password Generator so Safari can suggest unique, hard-to-guess passwords for your online accounts

Updates lock screen to delay display of "slide to unlock" when Touch ID is in use

Adds back the ability to search the web and Wikipedia from Spotlight search

Fixes an issue where iMessage failed to send for some users

Fixes a bug that could prevent iMessage from activating

Improves system stability when using iWork apps

Fixes an accelerometer calibration issue

Addresses an issue that could cause Siri and VoiceOver to use a lower quality voice

Fixes a bug that could allow someone to bypass the Lock screen passcode

Enhances the Reduce Motion setting to minimize both motion and animation

Fixes an issue that could cause VoiceOver input to be too sensitive

Updates the Bold Text setting to also change dial pad text

Fixes an issue that could cause supervised devices to become un-supervised when updating software