iOS 6.1 update on 22% of devices in 36 hours, could be fastest update yet
32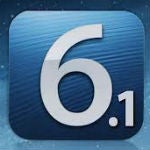 You have to give Apple credit sometimes. iOS may not be changing all that much, but the company has set up a good system for updates. You may not like the tightly controlled ecosystem and apparent lack of free speech in the App Store, but the trains do run on time. It looks like the first 36 hours of release have been good to the iOS 6.1 update, which has already been installed on 22% of devices, and could be the fastest update yet.
The data comes from Onswipe, which creates touch templates for web-based content. The company gathers data from over 13 million monthly active users on iOS, and found that adoption of iOS 6.1 jumped to 11.35% within the first 24 hours of release, to 16.92% as of this morning, and up to 21.81% as of 3 PM ET today. If this adoption rate continues, it should make iOS 6.1 the fastest update yet, surpassing iOS 6, which got to around 45% of devices in its first week of release, and around
60% in its first month
.
Onswipe CEO Jason Baptiste posits the faster uptick is due to people being more used to iOS's new over-the-air update system, but we think it may also have something to do with users not holding back and waiting for
Google Maps to return
to the platform.